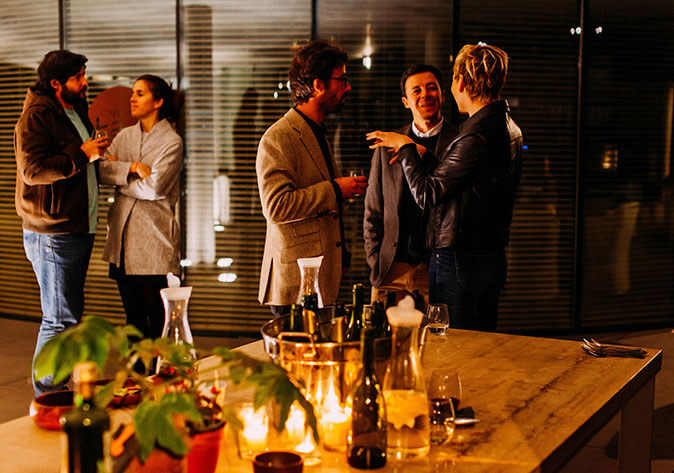 Christmas Party Ideas For Very Small Businesses

Tis the season to celebrate, and for most businesses – this means some type of Christmas party. While one's thoughts may turn to big corporate bashes, held in huge venues, for small business owners, coming up with Christmas party ideas may seem more of a chore than a celebration.
However, whether you work by yourself, in a very small group or have dispersed teams, there are still some great ways to get together to celebrate the festive season.
Throwing a Christmas party or event is a way to reward your employees at the end of the year, and a great opportunity to bond and socialise outside of the office. Even if you're just starting out and have a very small budget, with some creative planning and a dash of Christmas magic, you can still put on a seasonal event that all can enjoy.
Getting the office Christmas party right
If you're a small team, you may wish to keep your Christmas celebrations fairly low-key. Picture a cracking Christmas dinner in a great restaurant, or getting together for some drinks in the local pub.  One of the biggest advantages that small businesses have over large ones is that they know their staff on an individual level, so gauging the right venue or event that everyone can enjoy tends to be a little easier.
If you have a mixture of employees when it comes to ages and preferences, why not consider staging your day or evening, so that those who wish to party in to the early hours can, and those who like to be tucked up in bed are able to drop away once the main part of your Christmas party is over.
If you're small on numbers, but want to enjoy a bigger celebration, many venues offer party packages on holiday parties where you join with other groups who are celebrating as well. 
Do something different
While for many of us, when we think Christmas party we may think of dinner, drinks and maybe dancing – there are an absolute wealth of other things to do which may well suit a smaller team better.
There are some fantastic team building ideas that won't work for large groups, that small parties can take advantage of. Why not try out a Christmas cookery class, or test your team's logical thinking with an Escape room adventure or scavenger hunt? 
Keep it in the office
Having your Christmas party in your office needn't mean warm wine and mingling by the photocopier. Depending on the layout of your office, you can get creative and transform your office space into a winter wonderland.
If you are a small close-knit team, why not consider a "pot luck" meal – everyone brings in their favourite Christmas dish to enjoy. Or consider holding a quiz in your break out room? There are plenty of ways to make a party in your office enjoyable, so get those Christmas songs on, crack open the bubbly, and get partying.
Consider a client or connections party
If you are a very small business, perhaps a sole trader, or just a couple of you working in the business, to really revel in the festive celebrations, it may be time to get together with others.
Throwing some sort of Christmas party for your clients and your business network can be a fantastic way to get together with those who you may not see throughout the year, build stronger connections and celebrate together.
If you hold your Christmas do in your office, it's also an opportunity for your clients, or business ambassadors to get a bit some insight into your company culture and feel too.
Hold a joint party
If you reside in a shared office space or work closely with another business, why not get together to host your seasonal celebrations? Throwing a shared Christmas party can be a great way to boost the numbers if you're a micro business.
If those hosting also invites their clients and connections as well as team members, it can also be a great way to build your network and get to meet new potential clients and customers.
What if you're too busy for a party?
For a lot of small businesses, the Christmas period may be your busiest, particularly if you work in the retail industry, or depend on seasonal selling. So should you ditch the Christmas party altogether? We say – certainly not!
Holding your "Christmas" party after the holiday season is over can be a super way of celebrating your successes over the festive season, and let's be honest, can be a ray of sunshine on what's traditionally a bit of a gloomy month!
There's also the added benefit that generally speaking, going for a meal, organising an activity, or almost any party outside of the holiday season tends to be more budget friendly too. 
Remember to claim your tax exemption
As a company director, you are entitled to provide an annual event for yourself, any staff you employ and your partner, and can reclaim those costs against the company. While this can be taken at any time of year, for many this will be used towards your Christmas party.
Before you go all out though – remember that the cost per head (which can include accommodation, transport, food and drinks) must not exceed £150. As this is an exemption and not an allowance, you must be very careful not to exceed this limit – go a penny over £150 per person and you will lose the benefit.
What if it's just you?
But, I hear you cry – what if it's just me? Well, just because you may work alone, there's no need to miss out on treating yourself to some sort of celebration. If you're the social type – a number of networking groups and meetups are available which focus on having a Christmas "do" with others who are in the same boat.
Alternatively, if you're not quite up for socialising with strangers, why not give yourself a little treat. Take an afternoon off, and go Christmas shopping, or get the Christmas music out and enjoy a mince pie!