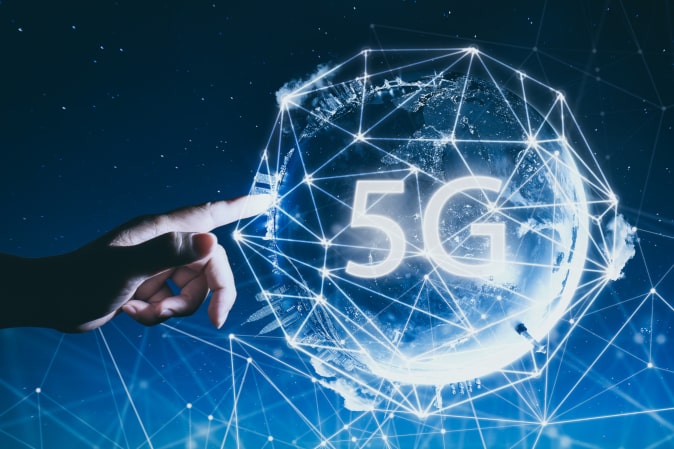 5G rollout: when, where and why it's good for London business
You might have already heard about the forthcoming arrival of 5G connectivity in London. It's creating a buzz – but what exactly is it? And more to the point, how is it going to affect your business?
Here's some information about the new rollout and its implications for companies in the capital.
What is 5G?
Quite simply, 5G is the latest connective / mobile technology, which uses higher frequencies than 4G. The result? A higher bandwidth and even more speed than before. In practical terms, that's quite significant. For starters, people are predicting that with 5G, Wi-Fi connection will no longer be needed; as users will be able to access everything they need to from their phones and tablets via their 5G connection.
It also offers connectivity on a grander level. The 5G network has a far larger capacity than its predecessor 4G, which means that literally thousands of users will be able to get connected simultaneously, even in small areas.
The Benefits for Your Business
Improved capacity 
The greater capacity of 5G connectivity means that your network will have no problem coping with lots of demanding applications at the same time. This includes several technologies you might want to incorporate into your business in the future, such as virtual reality, simultaneous streaming of HD videos, or operating connected vehicles.
Faster download speeds
Thanks to the sheer speed of 5G, it's going to be that much faster to download material in the workplace – and this includes huge files too. Soon, you won't need to tell clients to pop large jpegs into zip files; you'll be able to download them with no problem at all. The same applies for sizeable video content too.
Reliability
Got a sales team on the road? You'll never drop a call again with 5G, which is being touted as 'ultra-reliable'. Likewise, connected vehicle technology might now be a viable option for your business.
A Knock-on Effect
It's anticipated that this technology will have a knock-on effect on the way you do business. For example, the improved connectivity might make it more practical for employees to work from home; which frees up space in the office and reduces commuting times. Video connectivity via Skype (for example) will run far more smoothly, making remote meetings a far easier process.
Likewise, the new download speed presents fresh possibilities for the company; enabling you to harness the power of VR, AR and other technologies that are traditionally demanding in terms of connectivity. When it comes to creating client demonstrations or material for conferences, this could offer far more creativity and scope.
5G is also predicted to have huge impact on manufacturing (enabling more automation on the factory floor), transport (self-driving vehicles) and retail (businesses can use enhanced technology such as AR to offer a better shopping experience).
When is it Happening?
It's anticipated that the first 5G-enabled phones will hit the market in 2019 – and fingers crossed, 5G connectivity should follow in the capital relatively soon after; though these things often take time to roll out. However, it's certainly a case of when, not if we'll see 5G arriving; and it sounds like it will be sooner rather than later.