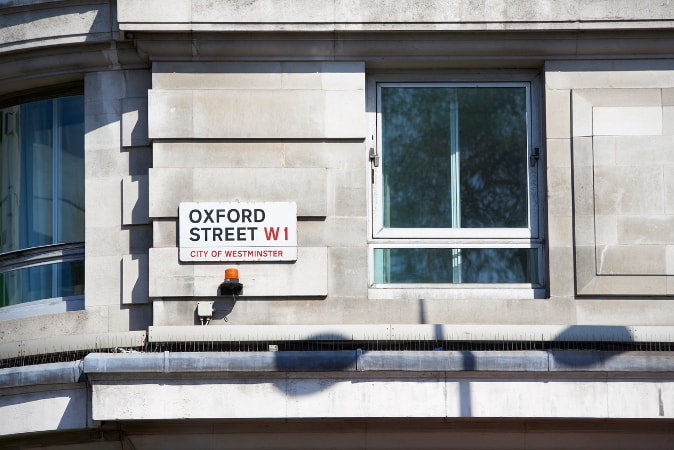 Plans are afoot to transform Oxford Street. Here's what businesses need to know
The Mayor of London, in conjunction with Westminster City Council, has been developing plans to eliminate vehicles in the area, creating an entirely pedestrianised zone. Sounds radical? That's what many people think, though so far, the concept has been met with widespread approval. Here's more information.
What are the Plans?
Back in November 2017, London Mayor Sadiq Khan unveiled plans to impose traffic restrictions in the western part of Oxford Street, and to transform the zone into a pleasant area filled with public art.
The initial visualisations show a vastly transformed street, with brightly coloured pavement in place of a road, and public art suspended above. Rather than being confined to the pavements, shoppers will have the freedom to move across the road too, creating a more relaxed retail environment.
"This is a hugely exciting moment for the capital," Khan commented in a statement at the time. "Oxford Street is world famous with millions of visitors every year, and in just over a year the iconic part of the street west of Oxford Circus could be transformed into a traffic-free pedestrian boulevard."
The Details
The plans propose to re-route all buses, plus require cyclists to dismount while in the area. However, in a bid not to discourage cyclists, additional plans are in place to create new cycle routes along the quieter roads that run parallel to Oxford Street.
The height of the road itself will be raised to make it more wheelchair-friendly, and a series of public plazas will be created, which will be lined with trees and benches – a welcome addition for weary shoppers.
There will still be traffic in the area (running north to south, at various points along the road), but for the most part, it will be entirely vehicle-free.
The Benefits
There are numerous benefits to pedestrianising this busy part of the capital. It will reduce the number of road accidents (according to the Mayor's office, there was one pedestrian / car accident every week from 2012 to 2015), and the reduction in vehicles will improve air quality – a major focus for Sadiq Khan at present.
It will also make the area more prepared for the anticipated increased footfall as a result of the forthcoming Crossrail trainline.
When Will the Decision be Made?
The consultation period is now closed, after having received over 12,000 responses. Transport for London will be publishing its findings later on this year, with the verdict being given after all consultation responses have been fully considered.
If the project is given the go-ahead, it is likely to have significant impact on not only the retail experience at Oxford Street, but on the businesses that are based there, who look set to enjoy increased footfall as a result. Only time will tell if the proposed changes go ahead or not.