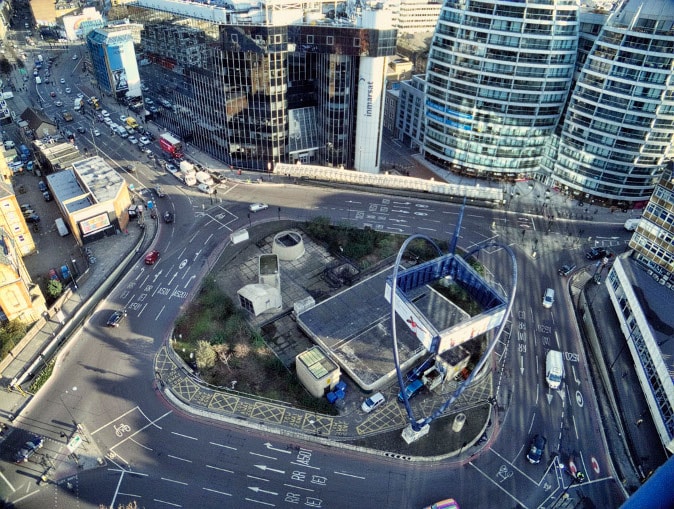 What Old Street roundabout could be replaced by next year
Old Street Roundabout is one of London's most famous icons, but get your selfies in while you can, because it won't be around much longer.
The roundabout is set to turned into a pedestrianised area in 2019, and if the proposed plans are anything to go by, it's likely to be an inventive transformation. Islington council, in conjunction with the Mayor of London, held a competition asking designers to come up with concepts for how the area could look after the removal of the roundabout. Here's more information about the submitted ideas.
Why the Redevelopment of Old Street?
At present, Old Street roundabout is a congested, traffic-filled area. More commonly known as 'Silicon Roundabout', it's well-known for its surrounding tech companies, and as such, Islington council wanted to turn the area into something that reflected its iconic status, whilst offering a more pedestrian and cycle-friendly environment for locals.
What Are the Concepts?
Four designs made it through to the short-list, from a longlist of 39. They were all commended on their interpretation of 'iconic', and their focus on creating a zone that prioritised pedestrians and cyclists. Here's a run-through of each of them:
Dar Group
Dar Group's design, though futuristic, takes its inspiration from the circular form of the roundabout, with a huge circular digital display board dominating the space. The surrounding area will be entirely pedestrianised, with geometric 'blocks' as benches, which are lit from inside.
Nicholas Hare Architects
Nicholas Hare Architects' focus was to design a park that "harnesses the social, environmental and economic aspirations of the area." In their design, this takes the form of a wide, open area, flanked by large wooden benches and trees. Of all the concepts, this is probably the most traditional.
GPad London
GPad London took a different approach and suggested transforming Old Street roundabout into an innovative 'digital garden', complete with a "forest of lights that generate electricity." Their design feels more free-form as a whole, with a large central plaza and fountains spraying water from the ground.
EPR Architects
Like Dar Group, EPR Architects were inspired by the circular form of the original roundabout, and the focal point of their design is 'the iris'; a space-age digital display board that will hover above an amphitheatre-style public area. The base of the iris, which is covered in mirrors, will reflect what's happening below.
What Happens Next?
Now the shortlisted entries have been announced, a formal tender process will take place. This is intended to identify a feasible, affordable way to regenerate the Old Street roundabout area. Islington council will then fund the work, which is scheduled to commence at the end of 2018.
The regeneration will result in the closure of the north-western section of the roundabout, as part of the Mayor of London's bigger vision to pedestrianise key parts of the city.
Additionally, TFL plan to make a series of changes, including restoring two-way operation to the road around the proposed new space, and building a new entrance to Old Street underground station, making it accessible to people from the new public space. Three of the subways surrounding Old Street will also be closed down and replaced with pedestrian crossings.