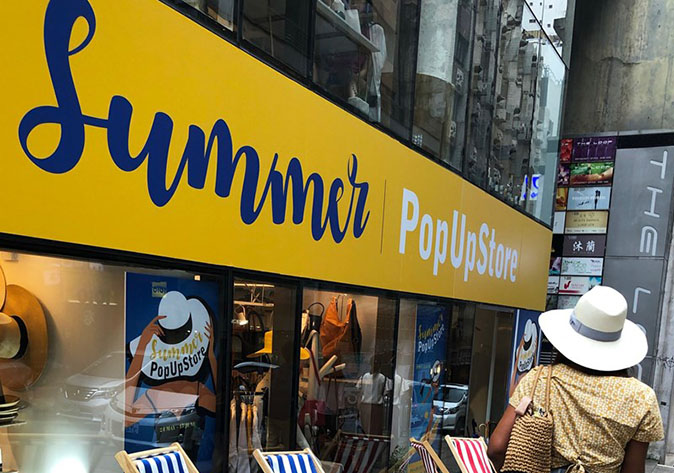 Making The Move From Pop Up to Permanent
If you have experimented with showcasing your products within a pop up store successfully, it may be that you are now considering a permanent retail space. While pop up stores are a fantastic way to explore how your potential customers react to your brand and retail experience, for many they are seen as a stepping stone to establishing a longer term base for their brand.
We explore how to make the jump from pop up to retail, with things to watch out for along the way.
How pop-up stores are changing the face of retail
Retail has evolved beyond all recognition over the past 10 years. Access to a wealth of shops at the touch of a smartphone button, online market places such as eBay and Amazon and the ability to shop 24hrs a day from our screens have meant that high street retailers are competing in ways never thought possible just a decade ago. 
However, there is still very much appetite from consumers who wish to enjoy the offline shopping experience. Being able to touch and feel clothing or products is still important to many. In fact, while e-commerce continues to grow, it still makes up less than 20% of overall retail sales, showing that bricks and mortar shopping is still very in demand.
But for a smaller retailer running a commerce site the thought of going directly onto the high street, or a permanent retail unit can be daunting, therefore pop ups can bridge the gap between pure online sales and actually opening a permanent shop.
How pop ups assist new retailers
The fact that pop ups are, by their very nature, temporary and fast moving is giving smaller brands a physical space where they can quickly learn and test how their product works in a retail environment without the risks involved in opening a permanent store.
With consumers increasingly focused on experience, pop ups also offer a great opportunity for would-be shops to refine their retail experience and the look and feel of their brand within a real shop, with real customers.
Typically the average length of a pop up store ranges anywhere between a single day to 3 months, with some lasting a little longer. However, for those wishing to establish a longer term presence in the market, establishing a more permanent presence is often the ultimate goal.
So how does a pop up retailer know when it's time to take the plunge and look for a shop to let on a longer term basis.  
Why make the move to a permanent store?
While of course, every retailer is different – the chances are that the choice to consider a longer term retail lease will come when a pop up concept has been thoroughly tested, both in terms of the products and of course location.
If a pop up outlet has done well in a specific location, it may be the time for the brand to think about a more permanent store. By nature pop up stores are often small spaces with limited space, so if retailers are struggling to showcase their wares, they may wish to move to a larger space to enable a better product selection.
In some cases, a retailer's hand may be forced. Generally, pop up spaces are only available for a limited time. So if a pop up is doing well, but the space is no longer available, it may be time to look at a longer term lease.
Things to consider when choosing to move into a retail space
For those moving from a short term pop up, it's vital that they use everything learned from the pop up experience and translate this into a long term strategy. For example, while a successful pop up outlet may create a social media buzz, an ongoing shop is unlikely to maintain this over a longer term basis.
On this basis, careful thought should be given to the marketing and product strategy. Seasonal variations in tastes and shopping trends should be considered, and a long term way of driving footfall to the store be in place.
Additionally, consideration must be given to inventory, staffing and ongoing business costs, including business rates, insurances and taxes- which while relevant to a pop-up shop, are even more so when a retailer is in it for the longer term.
Benefits of a permanent retail space
There are several reasons why opening a permanent shop may be of benefit to a brand from the outset. 
Drives Customer Loyalty
Having a shop located in a permanent position is a driver of customer loyalty. Shoppers in your location get to know your brand better and can return on a regular basis. Knowing that a retailer will still be in the same place next week, next month, and next year gives buyers a sense of security when it comes to considerations such as returns and level of service.
Staffing is easier to manage
Having a store as an ongoing business allows owners to benefit from selecting and training staff to be ambassadors of their brand. Unlike pop-ups, whereby staff know that their role has a specific end date, an ongoing store allows for employees to grow their knowledge and progress.
This means that retailers are able to build more of a staff culture within their brand, and allows for better training and development.
Costs are spread over a longer period
One of the biggest downfalls of pop up stores is that a great amount of investment can be involved for a short term. Items such as shop fit-out and marketing costs are concentrated around a short amount of time, and they have to be just right to create the buzz needed to drive customers for the short time for which they are open.
Additionally, insurances can be difficult when running a pop up and providers generally offer better deals on long term leases.