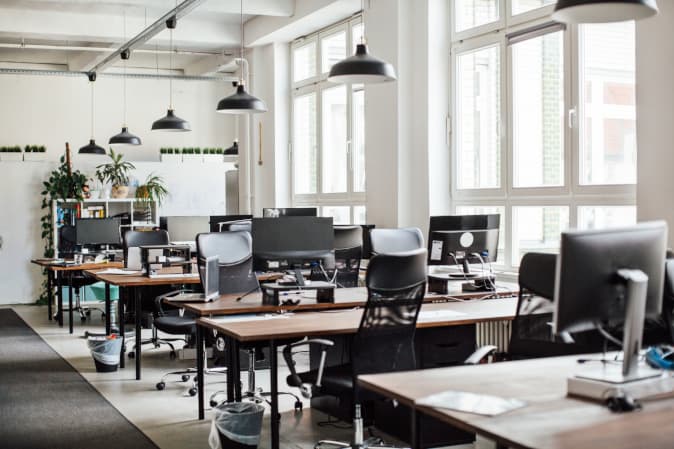 How to view an office
Viewing a new office marks an important step in your business journey. It's a sign that your company is evolving, and that you're reaping the benefits of all your hard work.
Deciding which office to lease is one of the most important decisions you'll make as a business-owner. As such, it's imperative to view each premise in the right way. Here's a guide to help you (and don't forget to check out our handy office viewing checklist).
How to view your new office space
Before you leave your house…
Before you attend the viewing, it makes good sense to do some research. Try to find out:
Where the closest transport links are.
What the parking situation is.
How close the office is to the major roads (for clients coming to visit).
What the crime rates are like.
Which other businesses operate in the area.
Jot down some questions to ask the letting agent when you attend the viewing. You need to make sure that you obtain all the information you need to make a wise decision.
Before you step inside…
Walk around the surrounding area and ask yourself the following:
Does it 'feel' like a nice area? Are the streets clean and litter-free? What do the locals seem like?
Are there amenities close by? It's always handy to have a local shop or café, for example.
Is it easy to reach? Will clients be able to locate it, or might they struggle to find it?
Does the building look presentable? Will it make the right impression?
Looking around…
Now you're inside, you'll need to start imagining how the space will work for you. This isn't an exhaustive list, but here are a few key things to consider:
How will your furniture fit? Is there enough floor-space?
What's the natural light like?
Will it need cosmetic improvement to bring it to standard?
Are there any obvious issues, such as dampness or mould?
Will there be enough room to support your growing business? Don't just think of the present; envisage where you'll be in a few years' time.
Are there enough power sockets?
What are the facilities like (e.g. toilets and kitchen area, if there is one)?
What to ask the agent…
If you've got questions, now is the time to ask them:
What are the business rates?
What other costs are involved?
Who are the current utilities providers?
What's included in the let, and what's not?
How long was the previous business here (this will give you an idea of how well the space has worked for others in the past).
Where can staff park their cars or leave their bikes?
If you'd like clarification on anything, ask the letting agent to send you the relevant information via email, once they get back in the office. A good agent will be happy to assist in any way, to ensure you find the perfect premises for your company.