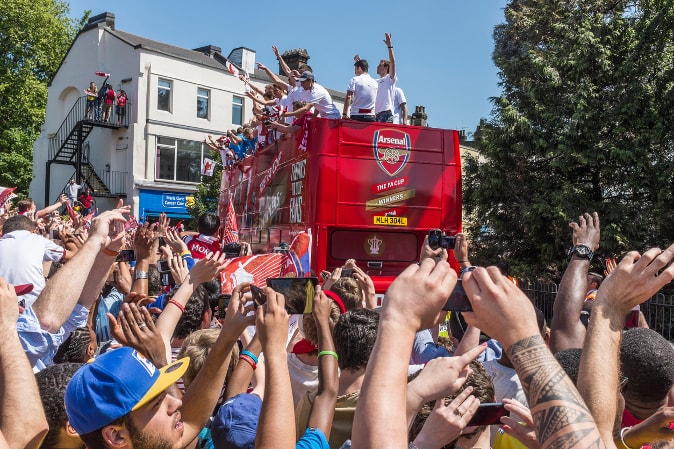 Arsene Wenger in Islington: Looking Back
For the people of Islington, it felt like an end of an era when Arsene Wenger announced his departure from Arsenal FC. Not only was he the club's manager for 22 years; during that time, he worked hard to support the local community – a fact that Jeremy Corbyn (MP for Islington North) acknowledged in a recent speech.
But just what did Wenger and Arsenal FC do for the people of Islington? Here's a brief overview.
Arsenal Hub Community Centre
In 2015, Wenger officially opened the Arsenal Hub Community Centre, which coincided with the 30th anniversary of Arsenal in the Community.
The Hub features a 50 metre 4G astroturf pitch for residents to play on, plus classrooms for educational sessions, a meeting space, and an adult learning area called the Arsenal Red Zone. At the grand opening, Wenger commented: "The Arsenal Hub will be a fantastic facility for our Arsenal in the community team and the young people they work with every day."
The Arsenal Kicks Programme
Another of Arsenal in the Community's projects is the Arsenal Kicks programme; designed to encourage social inclusion, especially in the more deprived parts of North London. Coaches not only provide support to players on the pitch, but also keep in touch regularly outside of 'football hours' in a bid to positively impact their lives and make a difference.
Charity Match Day
The annual charity match day raises hundreds of thousands of pounds for good causes and is a well-loved event amongst the people of Islington and beyond. In past years it's raised money to improve football pitches for residents, boost funds for community projects and provide therapy sessions for refugees who have been tortured.
Additionally, it's become tradition for Arsene Wenger and the first team players to donate a day's salary to the cause.
Youth Engagement
Working in partnership with Islington Housing, Arsenal in the Community has created a range of schemes, which take place in several housing estates across the area. These schemes (as you might expect) include football sessions, but also special trips, workshops, homework support and volunteer placements to help with future job prospects.
It currently supports around 150 individuals aged between 10 and 19, in 10 Islington housing estates.
Arsenal in the Community Day
Many people dream of playing football in the Emirates Stadium. In June last year, that dream came true for some lucky individuals, as Arsenal opened its doors to local school kids, with schools such as Copenhagen Primary and Ambler Primary in attendance.
Those who were enrolled in Arsenal Kicks and Positive Futures were able to play a game, as were those involved with the disability sports programme.
Healthy Living
Arsenal in the Community also teamed up with Jamie Oliver's Ministry of Food to provide the local community with cooking classes. The intention was to educate people on how to prepare and cook nutritious food – with a view to improving their long-term health. Both adults and children are catered for in the classes, providing important knowledge and understanding of the impact of diet on lifelong wellbeing.