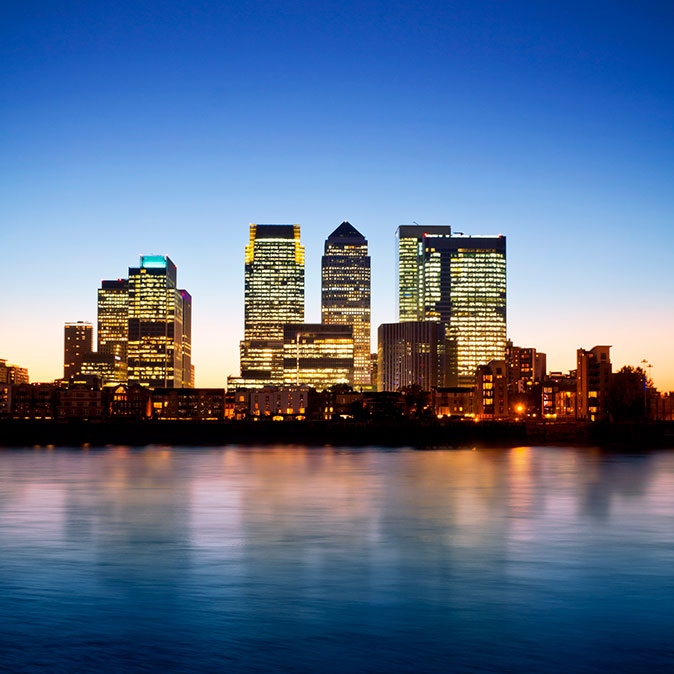 Canary Wharf, the Most Popular Offices in London?
Do you work around Canary Wharf? Perhaps you work in the big one itself. Must feel good every morning to walk into one of the most famous offices in the world.
Demand for offices in London is prone to trends that change over time. In different decades various districts are more or less in demand, but we all know that certain areas always hang around the top few spots –  the City being the main one. Businesses positively covet an office in the City. Canary Wharf, on the other hand, has lagged behind in recent years as cool new tech and creative hubs like Shoreditch have moved up the list to squeeze out the traditional business districts. 
But according to a recent, surprising report, Canary Wharf is seeing the fastest-growing office rental prices in central London, with demand for space under the looming shadow of One Canada Square soaring. We'll explore the evidence, compare it to other districts in the city, and work out exactly what it is that makes Canary Wharf so desirable to businesses.
Canary Wharf Rental Prices – The Facts
A report from Knight Frank suggests that rental prices in Canary Wharf are set to increase by 12.8% this year – a growth that outstrips all other locations in central London. The figures show that the area has experienced a sudden surge in popularity.
Last year, it experienced an 8% rental growth, which was less than the 12% growth in the city, and considerably smaller than Shoreditch's 24% rental increase. This year, it's set to top the charts at close to 13%, though Shoreditch is still following close behind with an anticipated 10% growth. In contrast, areas such as Paddington, the West End, Victoria and Kings Cross rental prices are only set to climb by 2-3%.
What's Driving Demand? 
James Roberts, Knight Frank's Chief Economist, suggests that the key driver behind the sudden growth in rental prices in Canary Wharf is affordability. Average rents per sq ft are just £44 per annum – which is dramatically different to Shoreditch, which commands an average of £71.50 per sq ft. In the West End, average rental prices are over double the cost of Canary Wharf, which explains why businesses are seeking alternatives to being in the heart of the city. 
Additionally, the development of Crossrail is set to bring more companies into the region, making travel into Central London far easier. Roberts comments: "It is going to have a highly regenerative effect, just as Jubilee line did in 2000. It broke the perception of Canary Wharf being too far out on a limb." (1)
Demand now "Not by Postcode"
Improved transport links have made areas like Canary Wharf more desirable for businesses, but changing perceptions of the city have also been a contributing factor. Whereas in previous years, location has been a prime factor when searching for commercial property, these days other factors are considered equally as important – such as cost, future potential of the area, and surrounding amenities.
City Leasing's head, Dan Gaunt, summed up the situation, identifying that "Occupiers are making decisions based on quality of product and amenity, availability of scale, adjacency of workforce, and not by postcode." (2)
The Changing Face of Tech Businesses
A decade ago, few could have predicted that tech and digital-based firms could afford such high rents. However, the start-up businesses that took up residence in Shoreditch five or six years ago achieved significant success by disrupting the digital landscape – and are now well positioned to move into larger, higher quality offices. Areas like Canary Wharf provide the perfect combination of affordability and opportunity – which is exactly what many tech companies are actively seeking.
References:
1)    http://www.cityam.com/233688/canary-wharf-to-outstrip-other-london-office-districts-in-2016-with-strongest-rental-growth-?utm_content=buffer47513&utm_medium=social&utm_source=twitter.com&utm_campaign=buffer
http://www.worldpropertyjournal.com/real-estate-news/united-kingdom/london-real-estate-news/london-office-rental-rates-2016-knight-frank-office-space-for-lease-in-canary-wharf-london-tech-sector-shoreditch-office-space-for-lease-dan-gaunt-james-roberts-9650.php