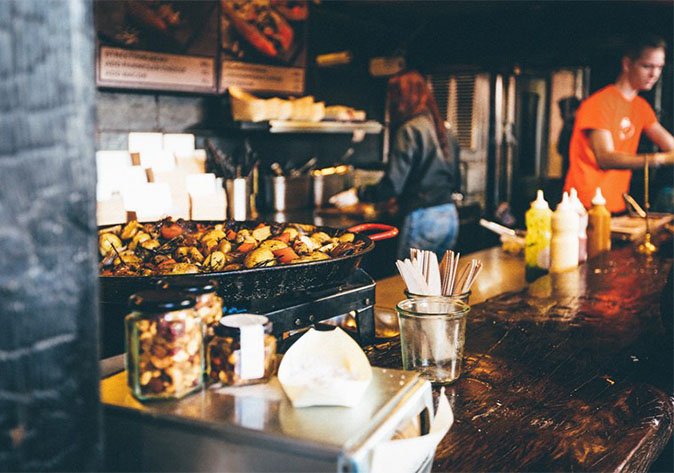 From Street Food to Seat Food – How To Make the Leap To Opening a Restaurant
The UK street food scene has sky-rocketed in recent years, with the market growing faster than any other area of fast food. UK foodies ever increasing "appetite" for affordable yet good quality food on the go has led to the explosion of street food vendors offering their wares across pop-up spaces, food vans, and stalls across the country.
However, for those who are becoming more established in their niche, it's entirely likely that the thought of moving from temporary spaces to established bricks and mortar location may have some appeal.
The rise of Street Food
The huge rise in popularity in street food increased the number of registered vendors operation in the UK from just 10 to over 1000 in the five years from 2010 – 2015, with many more now registered, according to figures from the National Caterers Association.
No longer the preserve of late-night burgers or sugar coated doughnuts, street food vendors now offer worldwide cuisines at a huge range of locations across the UK.
A report from Santa Maria, a leading supplier of spices and international food concepts found that the increasing quality and experience of street food is encouraging people to spend more – with 64% of consumers happy to spend more than £5 on a dish.
And with shows such as Netflix's "Street Food" showcasing street food from around the globe, the trend is set to continue.
Costs to consider
For food business built on the street, it can be easy to overlook the associated costs with moving to a restaurant, café or other permanent space.
Obvious costs such as rent, business rates, and utility costs are generally what vendors think of first when considering the change from street food to "seat food".
However, there are a wealth of other considerations. Unlike on a small stand or van, it's simply not possible for a single person to serve and "chef" at the same time – therefore staffing costs will increase with a need for both "front of house" and kitchen staff. Even if moving to a "fast food" type establishment, servers and those cooking are needed.
Items which had previously not been needed such as cutlery, crockery and glass wear must be factored into costs, alongside things like sanitary supplies for bathroom areas.
For any street food vendor looking to make the move to bricks and mortar, factoring in new costs is the key to the success of any venture.
Recreating the same success
For owners of street food businesses, it's a key question – "will a restaurant or other permanent space create the same buzz and ambience"? In choosing to swap the hustle and bustle of a busy street market, to a more sedate high street or central spot, could the atmosphere be lost?
Maintaining that authenticity which drew customers in the first place requires business owners to walk a fine line between understanding how to expand, but staying true to their original concept and values be it in terms of food sourcing, the hiring process or the look and feel of the restaurant itself.
Choosing the right restaurant space
The right location, the right size, the right price – there are so many things to consider when choosing a restaurant space to let. Too large and owners may not be able to fill the space and recreate the buzz of the street food endeavour, too small and the number of covers who can be served may not give the required return on investment.
Location is a vital component too – opening the wrong type of food business in the wrong location is one of the major reasons why restaurants fail, so it's vital that aspiring restaurateurs do their homework first, looking at footfall, demographics and whether their pricing meets with local expectations.
Successful examples of Street Food To Bricks and Mortar
Homeslice
Homeslice started out with Ry Jessup hand-building his very own mobile wood-fired oven. The popularity of their great pizzas made with seasonal produce spread throughout the street food scene, culminating in their first restaurant opening in Neal's Yard in 2013. They now have locations in areas including Shoreditch, Marylebone, Fitzrovia and White City, and have started offering home delivery too.
MEAT Liquor
An idea born around the same time as the rise of social media popularity, Meat Liquor started as a burger van in an Industrial Estate in Peckham, and can now be found in a variety of quirky locations across the UK. We can't tell their story half as well as they can – so read more about the Meat Liquor story here.
Crosstown Doughnuts
A business that has capitalised not only on creating successful retail shops from a pop-up business, Crosstown also has a full eCommerce site delivering their luxury doughnuts across London.
Launched as a market stall on Leather Lane, incredibly they were the first-ever street food trader to accept card payments with no minimum charge.
Now with 10 current retail stores across the capital, they haven't quite lost sight of their beginnings still operating vans at Spitalfields Market and Waterloo station, and trading at leading markets across London.
Other Options
Not all successful street-food vendors want to make the move from street to a straight forward restaurant or takeaway, and the UK consumer's growing fascination with making the simple eating of food into an experience gives innovative food businesses a plethora of places to ply their trade.
From at-home supper clubs to opening stands in the back room of a pub, food can very much move off of the "street" to a seat without the need for the heavy investment involved in opening a restaurant.
But whatever the future of food – it doesn't look like our love of street food is going away anytime soon.