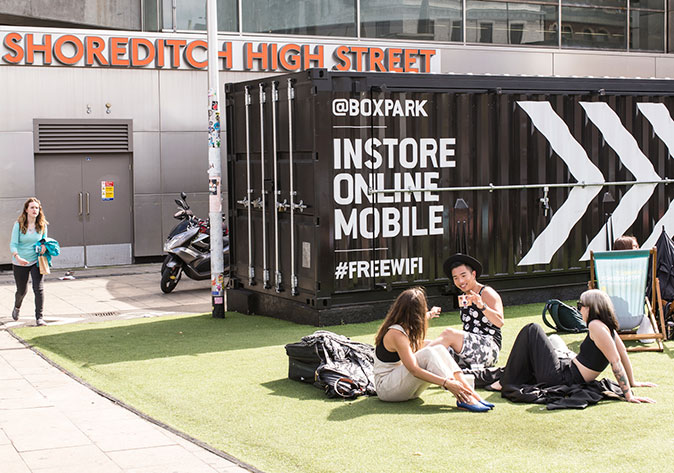 Going Digital in Shoreditch
It's one of the coolest places in London, it's the hub for tech and creative start-ups – and you already know all that.
If you're the head of a new tech company, you might decide that setting up shop in Shoreditch is worth it for the street cred and the proximity to like-minded companies. But some of you might want to know a bit more about the area before you choose it as the site of your innovative digital services.
Once the preserve of Victorian theatre-goers, Shoreditch's personality has changed beyond recognition. Here's a quick overview of how this district has risen to become one of the most significant digital regions on the planet – and why you might choose to move there.
Creative roots and big names
Shoreditch has always been a hot-zone for creative types. The UK's first playhouse, The Theatre, was built in Shoreditch, in 1576. This theatrical personality continued into the Victorian era and the area became synonymous with music halls and dramatic performances, though none of these theatres now remain.
In the mid-90s, Shoreditch became popular once again, particularly with young professionals. During the dot.com boom, tech companies moved into the area in their hundreds. Some of the earliest companies to start up in Shoreditch were Tinker.it, Last.fm, Livemusic and Poke London. Since then, some of the world's largest companies have also moved in.
A few of the more famous names include:
        

Amazon (Digital Media Development Centre)

        

Google (Innovation Hub)

        

Facebook (Developer Garage Programme)

        

Intel (Research Lab)

        

BT Sport (occupying the former Olympic Park)

        

Cisco (Innovation Centre)
Booming business and financial growth
Growth in the area has been rapid. In 2010, there were 85 start-up companies in Shoreditch and neighbouring Old Street. By 2012, according to Wired Magazine, there were over 5,000. (3)
By the end of 2014, global companies in the area invested over £1billion in the UK economy – and provided over 12,000 new tech-based jobs. This number doesn't include the additional 12,500 SMEs that operate in the area.
Unsurprisingly, as a result of this, the area is affluent and demand for commercial property is high; with some offices commanding impressive rental prices. However, other offices to rent in the area are still surprisingly affordable – and it's possible to find premises for just £69 per sq ft per annum. (4)
Why Shoreditch?
For digital companies, Shoreditch is an obvious choice. The area continues to be regenerated at a rapid rate, with a notable example being the multi-million-pound development on the former site of Shakespeare's Curtain Theatre, which is due to be completed in 2019. (5)
However, there are many other reasons why the area is a great choice for tech start-ups and established digital companies alike.
Education.

Imperial Innovations (the tech-transfer company of Imperial College London), Loughborough University and University College London are all active in the area – and all are focused on establishing firm links between academic study and enterprise in the Shoreditch area.
Transport links.

Shoreditch High Street Station is an Overground service, providing regular transport throughout the city. Additionally, London Liverpool Street is close by, enabling companies to reach Stansted Airport in around 40 minutes.
Tech City UK.

Tech City UK was launched in 2010 to actively support tech companies and digital enterprises in the area. Their focus is to accelerate business growth, and to help start-ups in the early stages of their business.
A few years previously, Shoreditch was considered on the fringe of central London. However, nowadays, it is one of the UK's most important business hubs – and the popularity of the area with tech-based companies shows no signs of abating.
References:
1)      https://en.wikipedia.org/wiki/Shoreditch
2)      https://en.wikipedia.org/wiki/East_London_Tech_City
3)      http://www.shoreditchoffices.co.uk/tech.htm
4)      http://www.findalondonoffice.co.uk/toolbox/rental-guide/
5)      http://www.independent.co.uk/news/business/news/shoreditch-property-development-worth-750m-launches-on-the-site-of-shakespeare-s-theatre-a6860921.html