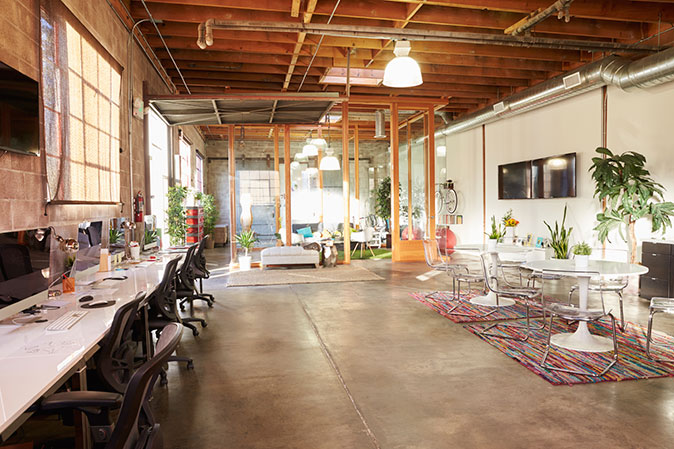 Whether it's your first time renting an office, or you've chosen to move to a new space, one of the first questions you are likely to ask when choosing a new workspace is "how much office space do I need"?
When considering renting commercial property, understanding the size of office that you require should be one of the first considerations when starting your search. Opt for too cavernous a space and you will incur unnecessary costs. Choose an office which is too small and you will likely be moving offices again in no time at all. 
Getting an idea of the square footage that you need for your business premises will help your business to ensure that when you are searching for an office to let you can quickly and easily eliminate those which are likely to be unsuitable, and focus your search on likely candidates for your new space.
While of course, your needs will vary depending on a range of factors, we look at some of the common questions business owners ask when determining how much space is required for commercial premises.
How much office space per person in the UK? Is there a minimum requirement?
Yes. Regulation 10 of the Workplace (Health Safety and Welfare) Regulations 1992 states the following with regards to room dimensions and space requirements:
"Every room where persons work shall have sufficient floor area, height and unoccupied space for purposes of health, safety and welfare".  It goes on to give further detail stating that, "The total volume of the room, when empty, divided by the number of people normally working in it should be at least 11 cubic metres. In making this calculation a room or part of a room which is more than 3.0m high should be counted as 3.0m high. The figure of 11 cubic metres per person is a minimum and may be insufficient if, for example, much of the room is taken up by furniture etc."
So, in essence, the minimum requirement is 11 cubic metres per person or roughly 55sq ft. However, there are many other factors you will need to consider. 
Commercial property is generally advertised in square feet, so it's good to understand the square foot of office space required. 
What other space do I need to think about?
While desk space is of course of importance, depending on your business there are likely to be other facilities that will be needed. At a minimum, you will need space for toilets and most likely a kitchen space (even if just for tea and coffee making).
However, this really is the bare minimum, and, as businesses in the UK start to take employee wellbeing more seriously, it may well be time to consider how your office layout and facilities can attract (and retain) the right employees. Offering a great working environment means providing in which your staff can take breaks, socialise or even exercise as becoming more and more popular. Indeed the right office can help to improve employee engagement.
In addition to considering the needs of your employees, there will also be practical considerations. How many meeting rooms are you likely to need? Do some staff need private offices or individual offices? Is there a requirement for parking? Do you hold servers or other equipment on-site?
Knowing exactly what you need to make room for will help you to determine exactly how much of it you need.
How many toilets do I need for my office?
Again there is guidance from the HSE which states.
Suitable and sufficient sanitary conveniences shall be provided at readily accessible places.

Without prejudice to the generality of paragraph (1), sanitary conveniences shall not be suitable unless -

the rooms containing them are adequately ventilated and lit;

they and the rooms containing them are kept in a clean and orderly condition; and

   

separate rooms containing conveniences are provided for men and women except where and so far as each convenience is in a separate

room the door of which is capable of being secured from inside.
The number of toilets (and washbasins) required, is different depending on whether toilets are for men only or mixed-use/women's toilets.
Number of toilets and washbasins for mixed-use (or women only)
It's wise to ensure that you have adequate, accessible facilities not only for your staff but for potential guests and customers too.
In some cases, you may also wish to provide changing and showering facilities too. Increasingly in inner cities, individuals are choosing to cycle to work, so offering a place to store clothing and change is of importance.
Think to the future
When deciding how much office space you need, you should be planning not just for the present but also for the future. Do you have plans for expansion, if so, how many additional desks are likely to be needed and will you still be able to provide a good amount of space, taking into account the required square feet per employee? 
Alternatively, as your business changes, perhaps the commercial space needed will change, or you will relocate your employees to separate sites. If you keep the future in mind, you are more likely to find an office to let that will suit you for the long, rather than short term.