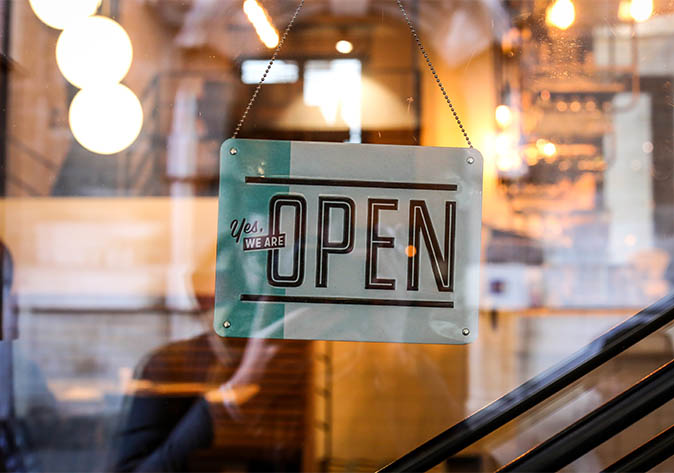 Looking to find the perfect retail space in London? As a city with a population of almost 9 million, it's an ideal location in which to open a store. Additionally, Londoners make up 13% of all retail spend in the UK, with a significantly above average representation of the country's most affluent demographic groups.
However, while it may seem to a retailer that the streets of London are indeed paved with gold – the truth is that choosing the right retail space in the correct location is key to your business success (or failure).  
With so many retail spaces to rent in London, it can be overwhelming trying to source the right one for you needs. Our handy guide helps you to navigate the noise, and find your ideal shop space in the capital.
Who are your target shoppers?
Whether you are introducing a completely new retail store to the city, moving an e-commerce only business to bricks and mortar, or just adding another branch to your empire, it's imperative that you think first about your ideal shoppers.
Take some time to map out your ideal buyer persona, do they need to be within a certain income graphic or demographic? What other shops are they likely to use? What are their shopping habits?
The products that you sell with also dictate your buyer personas. For example, the target customer for a local grocery is likely to be someone who wishes to use it as it's conveniently located so local footfall is a must. If your offering is a little more niche, it may be that shoppers will make a special trip, however, bear in mind the size and scale of your products – are customers likely to need parking or home delivery?
By understanding your perfect customer you can then get to work on building their dream store, in the exact location they're likely to be. 
What size shop do you need?
Before going full steam ahead with your retail unit search, consider how much retail space you will actually require. 
If you're planning on selling big items such as furniture or kitchens, the chances are that your shop floor will serve as your showroom and therefore need a large space. If you're planning on a shop with a high stock turnover, think about how you wish to store stock. Will you have enough space to keep the number of units you need on a regular basis?
Also, do plan out your back office needs. Generally speaking, you may wish to have an area in which you can do the office work that comes with running your store. Remember a retail property comprises of more than just your shop floor. 
What amenities should you consider when renting a retail space?
When choosing a London location for your retail space, it's wise to do your research on who else is trading within the locale. Refer back to your ideal customer research and appraise whether other shops, restaurants and amenities complement or compete with your offering.
For example, if you are selling high priced goods, it's not a bad thing to be in an area known for its luxury shopping after all many shoppers browse several stores in one outing. However, at the other end of the scale, if you're looking to open a newsagent in a small parade of shops which already has several, you may struggle with the competition. Our busy high streets can be crowded when it comes to competition, so assess whether you fit in. Large shopping centres can offer a captive audience, but again consider whether they meet with your target market. 
Transport can also be a make or break when it comes to your retail location, so assess carefully what mode of transport your ideal customer is likely to use. Should you be easily accessible by a tube station? Are your customers likely to want to drive? While in Central London, a lack of parking rarely offers a barrier to shoppers, outside the bright lights of Zone 1, it may be more of an issue. 
You should also make a plan when it comes to your transport needs. Are your goods likely to be delivered by van, by a large lorry, another way? Make sure that you have the space you need to be able to easily take deliveries.
Permitted use and retail space
If you're looking for retail premises to let, ensure that the property is defined as a retail outlet. Generally speaking, retail and shop units come under the heading of Class A1, however, if you're thinking of changing say, an office space into a shop, you are likely to require planning permission for a change of use.
Read our guide to UK property classifications to find out more.
Business rates for retail units
When putting together your business plan, business rates are likely to be a significant ongoing outlay when it comes to retail endeavour. Therefore rates should strongly be factored in when choosing both your location and the unit itself.
Unsurprisingly Central London (and in particular the West End) tends to have the highest retail rateable values in the UK – but of course, for retailers, the rewards of being in one of the country's busiest shopping areas offset this somewhat.
Learn more about what business rates pay for, and tax relief available
Personal considerations
While all of the above items help your business to thrive, it's also important that you are going to enjoy your new venture. If you're likely to be working long hours yourself in your shop you may well want it in a location that's convenient for you as well as your customers.
If you're going to spend half your life doing a long commute, it may outweigh the benefits you hoped to enjoy in working for yourself, so do think carefully about how your location will affect your working life.
If you're looking for a commercial unit, retail store  or shop to let in London, please do get in touch with us – we would love to help you to find your ideal store.