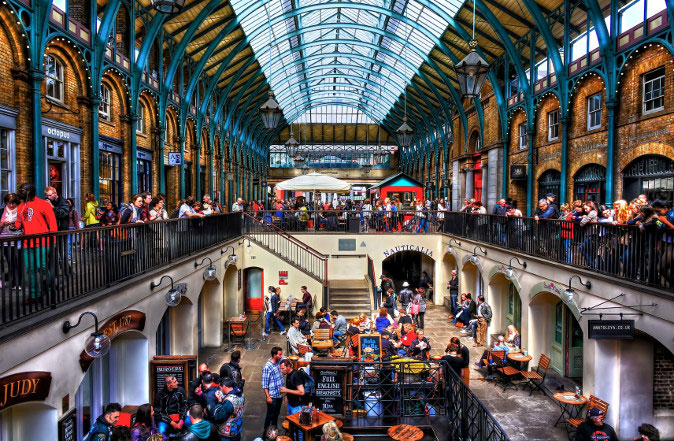 Independent Shopping in Covent Garden
Covent Garden is where the thespians are, any true fan of musicals will tell you that. But if you've ever spent time here, you'll know it has another side: an independent shopping culture complete with a plethora of trendy boutiques.
Covent Garden has a formidable reputation for creative, innovative retail outlets. Long Acre, the main thoroughfare, is home to some of the most well-known indie shops in the city, offering people something different. Nearly 1 million shoppers come here every week.
Once the preserve of hedonistic pleasures, Covent Garden has changed beyond measure. Here's why this historic area is now one of the world's most popular shopping destinations – and why you may benefit from setting up shop there.
A sophisticated history…almost
Covent Garden takes its name from the French word for convent – it was once the location of a walled garden at some point in the Middle Ages. In the 1600s, the famous piazza was built by Inigo Jones and the gentry started to flock to the surrounding area. The piazza soon became a market, and Covent Garden became a byword for bohemian.
By the 18th century, the affluent had relocated to other London locations and Covent Garden became a famous red-light district. Meanwhile the market continued to operate and, eventually, the area received significant regeneration money, transforming it into the busy shopping district it is today.
Key indie shops
The famous market features some of Britain's best emerging designers, not to mention antiques, arts & crafts and clothing. Besides that there are several well-known independent retailers in the area:
Benjamin Pollock's Toy Shop
Originally established in Covent Garden in the 1880s, it's one of the city's most famous historic toy shops.
London Graphic Centre
A leading supplier of art and graphics materials, the London Graphic Centre originally formed in 1973 in Covent Garden.
Snooks Fun Store
Designed to be a 'fun store for people of all ages', Snooks has been in Covent Garden since the 1980s and sells gifts, toys and tasty treats.
The Tea House
The Tea House, situated on Neal Street, is a family-run business which has been operating in Covent Garden since 1982. Unsurprisingly, it sells tea.
Thriving despite the economic climate
Covent Garden has experienced significant growth in recent years. Originally the retail districts were the Market and the Piazza. Due to demand, the area has now expanded to include Seven Dials, Neal's Yard and St Martin's Courtyard. St Martin's Courtyard is Covent Garden's most recently developed area, completed in 2010.
The expansion has changed the dynamic of the shops in Covent Garden. Now the Piazza features several high-street and designer stores, such as Apple and Ralph Lauren. As you might imagine, demand is high and units are seldom vacant in the core retail areas.
Residential property prices have rocketed in the last few years, and commercial property prices have followed.
Why Covent Garden for indie shop owners?
For growing independent retailers, Covent Garden is an obvious choice. As one of London's most celebrated shopping zones, it ensures a captive audience for your products and an excellent ROI.
Here's a few other reasons why Covent Garden is one of London's most desirable districts for indie shop-owners:
Footfall
Aside from Oxford Street, few other locations in the world can rival Covent Garden for sheer volume of visitors. With close to a million people visiting the area each week, it ensures plenty of exposure, and plenty of sales.
Transport links
Covent Garden is well connected, with its own Tube station on the Piccadilly Line, plus several bus stops nearby.
Ambiance
Covent Garden's unique atmosphere means visitors are more likely to linger in the area, which increases the likelihood of them visiting your store.
Reputation
The area is well-established as a mecca for independent shops, and this reputation can help your business to grow.
Although it's more expensive than other London retail areas, Covent Garden offers a unique shopping environment which retail business owners can capitalise on.