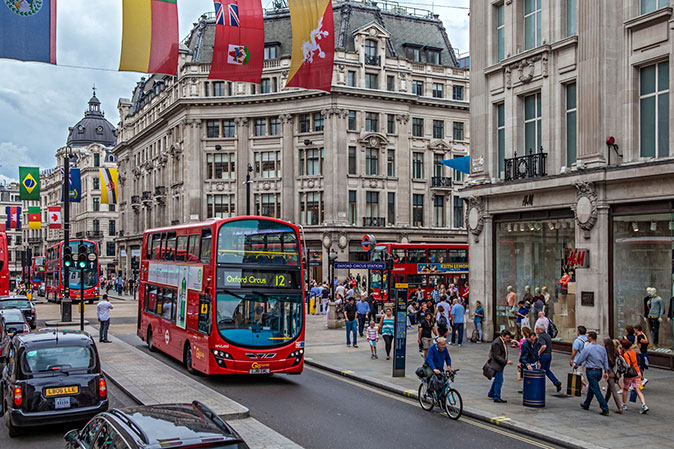 International Businesses That Have Set Up in London in the Last Two Years
"Maybe it's because I'm a Londoner'", but if I was the CEO of a world-leading business brand, I would want my HQ in London. Although I think my reason would be different from someone like Matt Brittin, Google's President of EMEA Business and Operations, who probably doesn't yearn for Pie & Mash at the end of a work day. 
London is officially the most popular city in the world for international businesses. A Deloitte study revealed that two in five of the globe's 250 largest companies have a main or European HQ in the capital.(1) That's five times as many as Paris, which is the second most popular city for businesses in the continent.
Deloitte's findings also revealed that London is the top destination for talent. Close to 50% of all highly skilled workers in the top five European business cities are employed here – New York can only claim under a third – while over 70% of the FTSE 100 are located in London's Metropolitan area. In fact, three-quarters of the Fortune 500 companies have offices there.(2)
It's clear that London still continues to be the front runner for large-scale enterprises. Here's a run-through of some big international companies that have moved to London in the last two years.
Global Companies Now Based In London
1)    Amazon. In 2014 Amazon's HQ officially moved to a 15-storey office in the heart of Shoreditch, London's most popular area for tech-based companies.(3) The previous year they had moved their former base of 16 years in Slough to Farringdon. Their long-term plans are to have three central offices in the city, with all of their corporate workers being based there eventually.
2)    Facebook. In September 2015 the social network signed a deal to take all available workspace in the new Rathbone Square development situated in Fitzrovia. The building is currently still in development but it's anticipated that staff will move to the premises in February 2017. Facebook also intends to lease more space in the future, subject to Westminster City Council approval.
Robert Cookson, head of EMEA, APAC and Americas Real Estate at Facebook, commented: "This is a fantastic opportunity to occupy a high-quality new development in the heart of the West End. The location has excellent amenities and connectivity, with the very best the city has to offer right on the doorstep, including Crossrail once it is established."(4)
3)    Cisco. From Silicon Valley to Silicon Roundabout, the multinational tech company was originally based in the U.S. but opened up new offices in London in November 2015. This wasn't the first of their London-based offices: in 2009, the company moved their UK operations from High Wycombe to Finsbury Circus.(5) 
4)    Hitachi. In 2014 Hitachi relocated their global rail headquarters from Tokyo to London. The decision comes after the company secured a £1.2 billion deal to manufacture the next generation of inter-city trains. Business Secretary Vince Cable commented: "This move demonstrates a huge vote of confidence in Britain, its workers and its rail industry, from one of Japan's biggest businesses." (6) 
5)    Starbucks. Global retail brand Starbucks moved its headquarters from Amsterdam to London in 2014, enabling their senior leaders to oversee the UK market more effectively. President of Starbucks EMEA Kris Engskov stated: "Closer proximity to our biggest market will be critical to our success as we grow our business across Europe and the globe."
Business Growth in London
Of course, these are only a handful of the large-scale businesses moving into the area. It's unsurprising that so many international businesses choose to relocate to London. With strong links to the rest of the continent, plus a firmly established reputation as one of the world's central business hubs, setting up a HQ in the city makes good business sense in global terms.
However, start-ups and smaller companies are also attracted to the capital as few cities can compete in terms of offering opportunity for growth.

References:
1)    http://www.standard.co.uk/business/business-news/london-is-pick-of-europe-for-world-s-biggest-companies-for-headquarters-9238130.html
2)    https://en.wikipedia.org/wiki/List_of_companies_based_in_London
3)    http://www.theguardian.com/technology/2014/sep/11/amazon-london-office-building-slough-hq-shoreditch + http://www.cityam.com/1410432641/pictures-heres-what-amazons-massive-new-london-office-will-look
4)    http://www.telegraph.co.uk/finance/newsbysector/constructionandproperty/11860126/Facebook-finds-new-home-for-London-HQ.html
5)    http://uk.businessinsider.com/cisco-uk-opens-new-london-office-2015-11
6)    http://www.theguardian.com/business/2014/mar/20/hitachi-uk-rail-move-government-boost
7)    https://news.starbucks.com/views/starbucks-moves-european-head-office-to-london