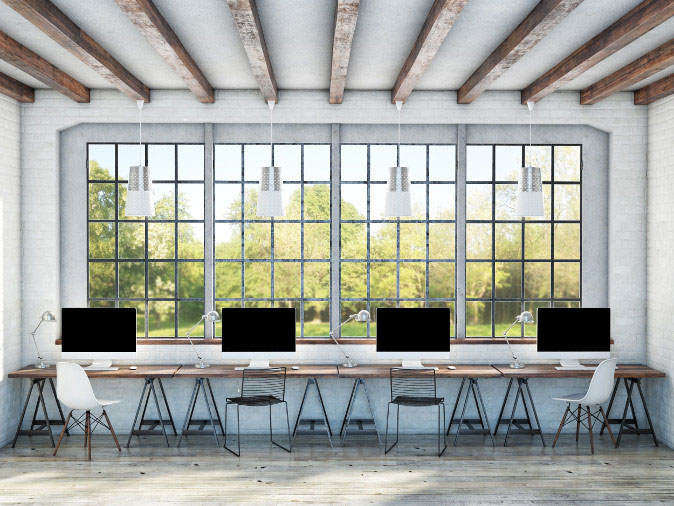 London's Coolest Offices
Do you think your current business workspace has the 'wow' factor? Or do you feel it's lacking a certain je ne sais quoi?
If you're looking to add some personality to your premises, here's a list of London's coolest offices to give you some creative inspiration!


Google's engineering office
Google's engineering office in Victoria wasn't primarily designed by décor experts, but by the employees themselves – which explains the general ambiance! In this laid-back office, every wall is a whiteboard, and workers can conduct their meetings on sofas rather than stuffy boardrooms. There's even a playroom, a music room and a park, where Google's employees can relax with a coffee on a rowing boat.


Enstar Capital's boutique office
Gold loo, anyone? Enstar Capital's luxurious office in Mayfair is about as decadent as it gets, with gold stairs and toilets, timber flooring imported from a Tuscan monastery (yes, really) and in-house cuisine and champagne from La Petit Maison. Unsurprisingly, it's one of the most expensive offices in the capital.


Innocent's HQ
As you might expect from the smoothie brand, the feel of their offices is very natural, with fake grass, park benches and plenty of bunting all round. There are even ping-pong tables for employees to unwind at after a hard morning's work, and a genuine red telephone box for added authenticity.


Red Bull's office in Soho
A simple question – who wouldn't like a huge slide in their office? Red Bull's staff not only get to slide into their offices on a daily basis, but also get to play ping-pong during their meetings and enjoy sleek, futuristic décor at every turn.


Mind Candy in Shoreditch
Gaming giants Mind Candy have an office that is understandably playful, with walls that you can doodle on with pens, helter-skelter style slides and ping-pong tables. You can also expect to see Moshi Monsters lurking round every corner, and plenty of other vibrant design touches.


The Mother of all offices?
Mother, a creative agency in Shoreditch, have taken a different approach to interior design. Employees sit round an enormous 250ft concrete table, and are encouraged to move around as much as possible. There are also allocated 'thinking spaces' complete with rugs and armchairs, and a fenced off zone for football. Also included is wall-space for staff to put photos of (you guessed it) their mothers.


Ugli offices
True to their name, Ugli's serviced offices aren't situated in the most attractive of buildings. However, the interior is another story. Visitors can lounge on comfortable sofas and in see-through pods suspended from the ceiling, and enjoy what is essentially a custom-made playground for city workers.


Coca Cola's Marylebone offices
Coca Cola's London offices are predictably impressive, with a rooftop terrace (complete with great views over the city) and commissioned artwork hanging in the foyer. Recycled cola bottles are also incorporated into the furniture, and the office places big emphasis on sustainability, with solar panels providing the power.


HMS President
Why work on dry land when you can operate on board a boat? The HMS President offers fully serviced offices, complete with cabin décor and portholes. It's permanently moored on the Thames, but do expect some level of motion – not good for those who suffer from sea-sickness!


Is your office space unique?
It's possible to create a unique, personalised feel in your office space, regardless of whether you're a multinational company or not. Simply take inspiration from other workspaces, and from your staff, to create a space that works for your individual needs.