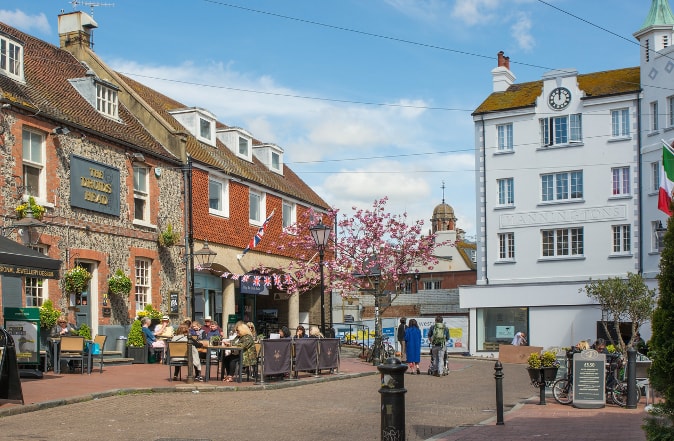 The most popular office locations outside London
It's official – business is booming in the UK; and not just in the capital. Although London remains the indisputable number one city for high-performing companies, several other places are speedily becoming popular locations for business of all sizes.
Whether you're a start-up company or a well-established enterprise looking for new premises; here's a list of the best office locations for businesses, outside of the capital.
The Best Office Locations outside London
Brighton & Hove
Brighton & Hove came top in this years' Hot 100 Office Index, which details the locations with the most active office market outside of London. Considering 373 locations were considered for the list, this is an impressive accolade indeed.
It's unsurprising when you consider everything Brighton & Hove has to offer a company. Excellent transport links provide easy access to the capital and beyond, plus there's a skilled workforce on hand, thanks to the local university. As an added bonus, office space is around 50% less expensive than in London.
Edinburgh
Ranked the best city for start-up businesses in the UK), not to mention the second-best city in the Hot 100 Office Index, Edinburgh is a great place to search for offices. Considered one of the UK's most important enterprise hubs, the city is home to several leading science parks and research centres, and is geared up to support and nurture local businesses. Better still, offices are astoundingly cheap, especially when compared to London.
Cardiff
Cardiff came third on the Hot 100 Office Index, and was one of two Welsh cities to make it into the list. This is largely due to the regeneration that's taken place in the city in recent years (like the Central Square development area), not to mention the extensive talent pool from the local university.
Manchester
Manchester boasts the highest numbers of start-ups in the North-west, and is already being touted as the 'Shoreditch of the North'. With five universities in total, it's also got one of the largest selection of talented graduates to select from, not to mention fantastic transport links. In addition to high-speed trains connecting the city to London in just over two hours, there's also a local airport and the M60 motorway close by.
Cambridge
Cambridge is renowned for its top university, which naturally, means a highly skilled workforce to choose from. It's also close to London, has a wealth of business support programmes in place, and office spaces are about a quarter of the price of London premises.
Bristol
If you're looking for the good life in the South-west, but don't want to sacrifice on business opportunities, then Bristol is the city to head for. It's one of the more expensive locations in terms of office rental rates, but still around half the price of London premises. With an impressive start-up survival rate of over 60%, it's also a great place to choose if you're launching a new venture.
Leeds
If you're looking for reasonably priced office space, Leeds is an excellent option. It offers one of the most affordable office rental rates in the country, which means you'll be able to afford bigger, better premises. It's also got a large student population, which means plenty of potential employees.