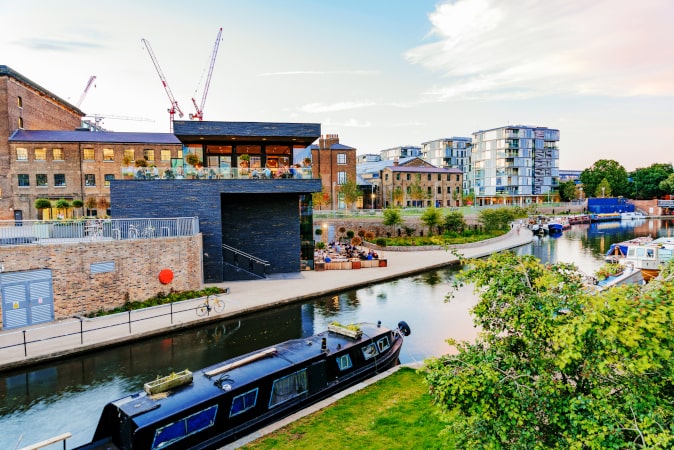 The rebirth of King's Cross
King's Cross is an area that has historically been regarded as undesirable. Most agreed that it was in desperate need of regeneration – but given the extent of the work required, it was largely ignored for several decades.
Around the turn of the millennium, plans were forged to transform King's Cross. Finally, eighteen years later, the area has been given a dramatic new lease of life, turning a shabby part of London into an impressive new postcode area – N1C.
What's changed? Here's a lowdown of the key redevelopments.
New Office Space
The architects involved in the project have cashed in on King's Cross's industrial past, blending metal and brick to create a retro-urban look.
4 Pancras Square
Eric Parry Architects were behind the dramatic new office block at Pancras Square, which is encased in a weathered steel framework. There are ten storeys above ground (all given over to office space), plus retail space on the ground and lower ground floors, and two basement levels.
1 Pancras Square
This building, designed by David Chipperfield Architects, features hefty metal pillars on every level of the façade. It's industrial architecture at its most bold and offers several floors of office space.
2 Pancras Square
Allies and Morrison designed a mixed-use building that's also sustainable, achieving a BREEAM Outstanding rating. Made from white precast stone, combined with metal and glass, it's a pleasing blend of modernity with a hint of glamour.
R7
R7, the creative vision of Morris and Company, has gone for a more playful design concept, with a salmon-pink metal façade. It's got several storeys of offices, plus a public lobby and a cinema.
Greener Spaces for Workers
The new green spaces in King's Cross are another major draw for companies, as they provide a good counter-balance for the nearby road and railway station. 40% of the 67-acre area has been given over to greenery, with a new network of paths leading through a variety of parks and tree-lined squares.
The banks of Regent Canal have been put to good use, providing workers with some natural surroundings in which to relax and watch the world go by during the lunch-break. Camley Street Natural Park is also within walking distance.
Local Amenities
The new amenities at King's Cross are likely to bring more people to the area, which in turn, boosts the recruitment talent pool. Employees can benefit from easy access to:
Pancras Leisure Centre and Pool
Moss Pilates Studio
Handyside Sports Pitch (indoors, free to use)
King's Cross Sports Hall
FRAME Fitness Studio
Retail Opportunities
Several restaurants, bars and other retailers have already moved into the new King's Cross development, such as The Lighterman, Leon, Cut + Grind, Kimchee and many more. There are also several cocktail bars (which is useful for after-work drinks), and various fast-food / lunchtime takeaways.
There are still spaces available for further companies to establish themselves in the area, but premises are being snapped up swiftly, so it's a wise idea to act quickly or risk missing out.