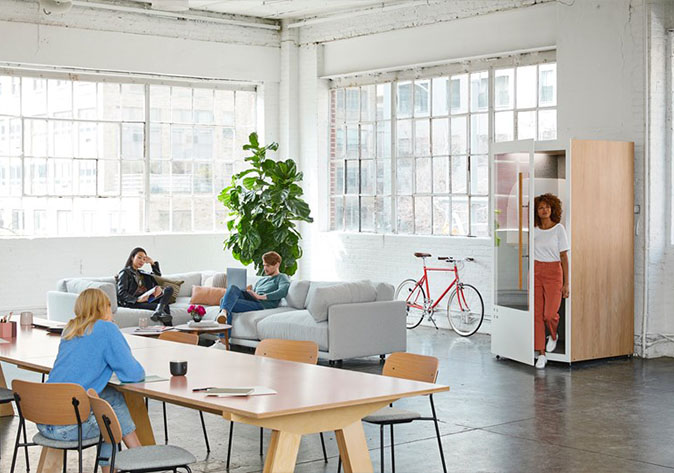 Shared office spaces offer lots of benefits for freelancers or start-ups and can be an affordable way to start your own business. When compared with working from a home office, many business owners cite that using a co-working space gives them a more professional working environment to get things done. 
Coworking spaces have risen hugely in popularity over the past few years, thanks to the explosion in start-up culture. More Brits than ever before are going it alone, with self-employed workers now accounting for 15% of the working population. However, premium office space may be out of reach for many who are just starting out, so, for example, in London co-working may seem to an affordable answer. 
But if you are starting to grow then you may well be asking when is the best time to move on from a co-working space.
Of course, It's easy to do, you set up in your co-working space, enjoy the lovely coffee shop and the support network of fellow start-ups and then you get busy.
Suddenly you start to feel growing pains and the shared space doesn't seem like such a good option.
So what are signs that you should move out?
Privacy is probably the number one reason why people might wish to leave their co-working space. The requirement to have a private office where you can conduct get on with work, meeting rooms to entertain clients and a space that feel bigger than a standard phone booth can start to feel more important as your business grows. 
When you are in a large open plan office with lots of other people sharing desk space it can seem a little overwhelming and often your productivity can suffer.
When Geoff the graphic designer (who doesn't seem to do a lot of graphic designing) stops by for his fifth chat of the day it's a good sign that you really need your own office space.
But seriously, if you find yourself needing to have confidential meetings with clients, or are constantly interrupted when on important calls then the idea of renting an office that gives you the opportunity to shut the door on the outside world can be attractive.
Growing pains?
For micro businesses that may have one or two employees then often a co-working space is a good move whether it be renting a permanent desk or using a hot desk facility.
But as the company grows it becomes more difficult to form a coherent team. One of the biggest strategic benefits of a small business is the togetherness and dedication that comes from a small team all working towards the same aims. 
Office environments can have a big impact on your company culture, therefore having your own office space makes forming this shared sense of mission much easier and gives companies the room to breathe. It also gives a little more room for you to stamp your personality on your premises. While many coworking spaces are beautifully designed, they don't offer the same scope in terms of branding and really advertising what you do by your office design. 
Staff turnover is most certainly reduced by the fact that people can have their own dedicated desk. They can make their working area a little more personal and have an office that they can make their own.  Additionally, the ability to have more flexibility over your location is a great benefit for both your employees and customers
Privacy is also important in terms of security. Depending upon the sort of co-working space you have, it's possible you may have to either take everything home at the end of the day or take a chance that it won't be there when you come back.
Alongside this, you are depending upon the quality of the IT support for your co-working space and if their network security is compromised then you're at risk.
Having your own office let will give you the ability to decide what levels of security you need and make sure it is maintained.
It's not all about the money
The first reason that comes to mind as to why you may not want to move out of your co-working space and into your own office is money.
Now it's vital that letting an office isn't seen purely in terms of costs because the long-term health of your business is more important.
But the figures shouldn't be ignored.
Co-working spaces, particularly coworking spaces in London, benefit from the economies of scale, however, as your business and your headcount grow you'll find that these very economies of scale become available to you, or at least lessened considerably which means that renting an office is an attractive option.
Privacy, security and cost are all good reasons why you may want to look at moving from your co-working space into your own office and it's worth doing the sums, thinking about the business opportunity and then looking at getting your own office space.
So what are my options? 
If you're looking to move on from your co-working space, there are a few options available to you. Of course, which one works for your business will depend on your reasons to want to leave. 
For example, if you're a sole trader who's just got fed up of the noise and hassle, creating a quiet office at home may be a viable option for you. It gives you the privacy you crave, but without the costs. 
However, for a growing business, the chances are that your next step after co-working is finding an office space. If you're looking to rent an office in London, or anywhere else in the UK, why not take a look at our useful guide to choosing office space.