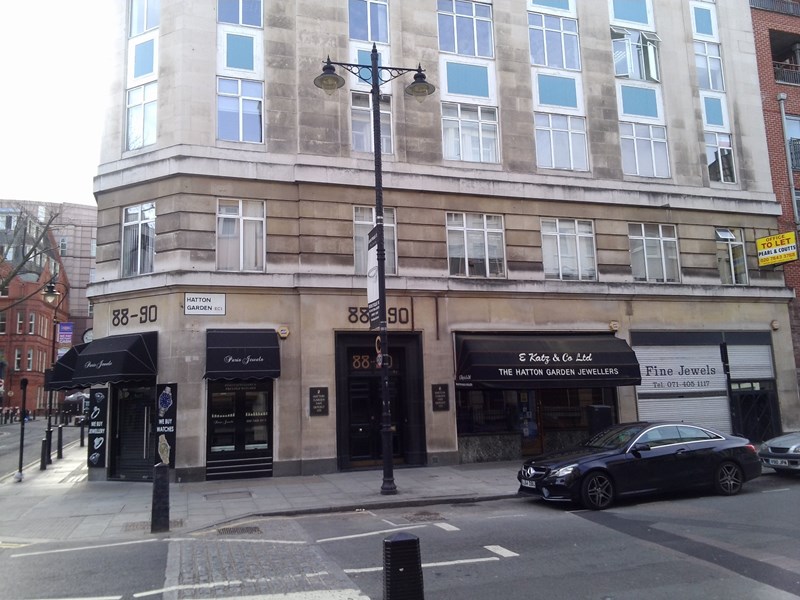 Why Hatton Garden Business Offers More Than Just Jewellery
Hatton Garden is world- famous for its extensive network of prestigious jewellery stores. Quite simply, there's no better place in Europe to head for something shiny and expensive.
While Hatton Garden jewellery may be world-renowned with it's shops known as a place to source the finest gold or engagement rings, it's not to say that the charms of Hatton Garden are limited to these conventional treasures alone. 
Over the past few years, the Hatton Garden area has found its way onto the maps of more investors, entrepreneurs and business owners than ever before. 
But what is it about Hatton Garden that makes it such an appealing location in which to do business or open new office space? More importantly, why would an entrepreneur or business owner consider renting a commercial property in Hatton Garden?
It's a Business Improvement District
For one thing, Hatton Garden is an officially designated Business Improvement District (BID). The BID scheme is a business-led partnership, established to enhance and improve key commercial areas through locally raised funding and investment. Four key objectives have been established for the Hatton Garden BID, which are as follows:
Better business connections and representation for the business community

High quality public realm

Area promotion and profile raising

Enhanced environment
The beneficial effects of the Business Improvement District initiative are already evident across much of Hatton Garden with projects that have very much raised the profile of the area, such as a summer festival, and full Christmas campaigns. Additionally, public realm projects are making the location look and feel more attractive to both visitors and office workers.
Nonetheless, evidence suggests that we've only just scratched the surface of what's to come.
Creative Industries
As one of the most attractive and fashionable commercial districts in London, Hatton Garden has become a magnet for artisan businesses and creative industries. From educational institutions to charities to marketing agencies to jewellery businesses, more dynamic organisations than ever before are making the move to Hatton Garden.
Much of Hatton Garden's appeal from a commercial perspective lies in its unique capacity to attract young and graduate talent from across London. It is a vibrant, energised and forward- thinking commercial district, in which London's innovators and visionaries come together to do business. All of which adds up to an exceptionally bright future for the Hatton Garden district as a whole.
It's Well Connected
Public transport connections and general ease of access can be a 'do or die' issue for today's business. Both for the convenience of customers and staff members, it's essential to position your office building strategically and mindfully, taking into account commuting capabilities and ease of access for meetings and events. 
Hatton Garden couldn't be a better location in which to do business thanks to its location that sits between both the City, The West End, and also up and coming East London. 
The heart of Hatton Garden is less than 5 minutes on foot from both Chancery Lane Tube Station and Farringdon Tube Station, giving easy access to Kings Cross - the centre for international rail travel. There are also at least 10 bus stops within close proximity of Hatton Garden, making it quick and easy to reach almost any corner of the capital.
There are Great Places to Eat and Drink
Again, running a successful business means viewing the big picture from the perspective of your staff and your customers. Far from a simple retail precinct, Hatton Garden is no less than a paradise for foodies. From French to Asian to British to miscellaneous, there's always something new and exciting being served up in and around Hatton Garden. 
Along with an extensive list of top-rated restaurants (Tongue & Brisket, The Bleeding Heart Restaurant, The Argyle, Prufrock, Singtong Burger House, The One Tun Pub etc.), there are countless unique artisan food stalls within a stone's throw of Hatton Garden. Indeed several of London's leading pop ups such as Crosstown Doughnuts started life in the area. Increasingly, the eateries and pubs of Hatton Garden are becoming an attraction in their own right, bringing more customers your way.
There's Varied Shopping
It's also a similar story with shopping, which is every bit as varied as the gastronomy. Hatton Garden has become the go-to destination for luxurious shopping and exclusive merchandise in London. The district's history of course lies in fine jewellery, but there's so much more to today's Hatton Garden than unaffordable finery alone.
Leather Lane Market offers visitors an eclectic mixture of traditional market wares, such as clothing and housewares, dotted in with exciting street food stalls and handcrafted items. 
An additional attraction for your customers and your staff, Hatton Garden is overflowing with independent retailers, gourmet coffee shops and unique boutique outlets. Hatton Garden is becoming a more diverse shopping hub all the time, further adding to its already extensive allure.
As far as commercial letting and rental opportunities go, there are few more appealing prospects in London right now than Hatton Garden.