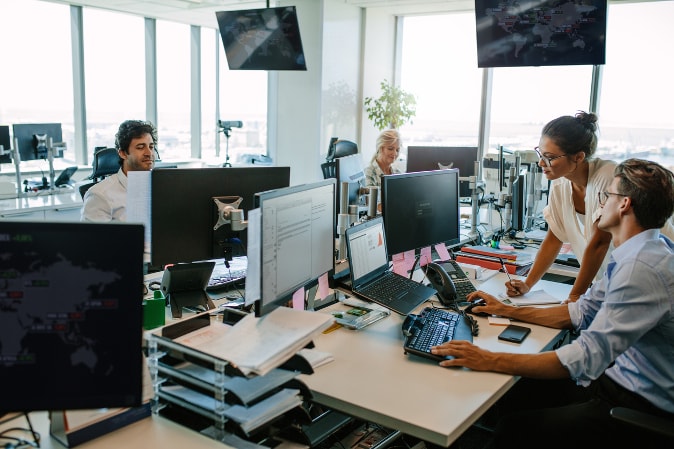 Why invest in a leased office?
When starting a company, one of the top priorities is finding the right premises. However, there's a lot to think about when exploring the commercial property market – such as budget, layout requirements, location and suitability for your business.
You'll also need to decide whether you're going to buy a commercial property or lease it. If you're starting out, leasing is the recommended option. Here's a quick run-through of the reasons why.
Firstly, What's the Difference?
When you start searching for commercial property, you'll notice a lot of different options. For example, a serviced office is entirely different to a leased workspace, in that furniture and utilities are usually included – for a price.
Likewise, a letting agreement has some key differences to a lease agreement. For starters, leasing is usually for a longer term, and gives tenants a greater number of property rights. If you're not sure what's right for you, it's a wise idea to talk to a specialist, who can advise you further.
The Advantages of a Leased Office
Flexibility
This is perhaps the greatest benefit of all for new businesses, as it means you're not tied into a long-term agreement. If growth doesn't happen as quickly as you'd hoped, it's relatively easy to downsize to other premises; and likewise, if your company experiences swift growth, you can move to a larger office with ease.
Reduced upfront costs
Few businesses have the budget to afford a deposit for a commercial property. That's where a lease agreement comes in very handy indeed. Instead of an enormous lump sum, you'll only have to pay monthly rent, plus possibly a refundable deposit.
More choice of location
It's less burden on your budget to lease workspace, and this reduced cost means you'll have far more options in terms of location. It's the cheaper way to base yourself in a more desirable place.
Less responsibility 
If you purchase an office, if anything goes wrong, it's your responsibility to fix it; and this can get costly. If you're just leasing the premises, any major works are usually the responsibility of the landlord – though it's important to check the contract carefully to find out exactly what you're responsible for.
More capital available
If you're investing less money in your premises, that gives you more cash to spend on other things, which may accelerate the growth of your company.
What About Serviced Offices?
Serviced offices offer a greater level of convenience, as everything you'll need to get started is already in place. However, it's not ideal for many businesses, as serviced workspace comes with far greater restrictions. For example, you won't be able to truly make the space yours, as there are likely to be strict rules in place with regards to decorating and branding. Likewise, it doesn't make a great impression when you're inviting clients to visit.
If you're looking for offices that provide the best of all worlds; flexibility, reduced costs and freedom to tailor it to your specific needs, then a leased commercial property is an excellent option.