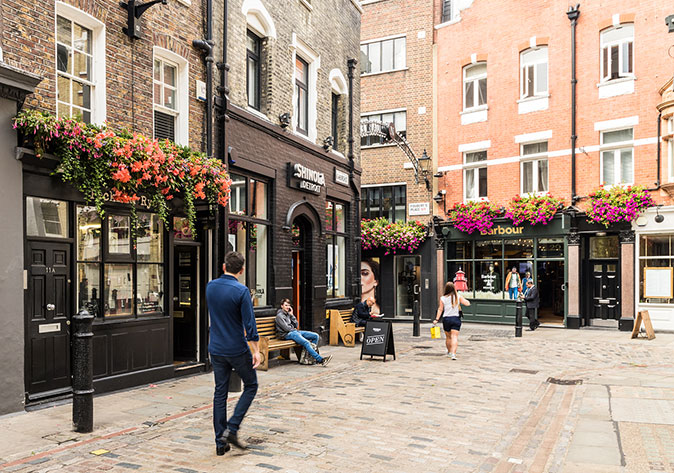 A Commercial Property Guide to Soho
Once known as one of London's sleaziest locations, Soho underwent an incredibly successful transformation starting from the 1980s. It's now a magnet for world-leading entertaining and high-growth media, creative and tech companies. The forthcoming arrival of the Crossrail station looks set to attract even more businesses to the area, and it's anticipated that it will serve over 200,000 passengers each day.
If you're thinking of setting up your company in London, Soho is a great location to choose. Here are some more details.
Why run a business in Soho?
Soho is a great place for fast-paced, disruptive businesses that are looking for an environment that nurtures their trailblazing personalities.
It's a great area for creative companies. In fact, according to The Evening Standard, a fifth of the capital's creatives are employed here. However, although Soho is a haven for those involved with the arts, media or the film industry (particularly post-production), make no mistake – it's ideally suited for businesses of all types.
It's also incredibly straightforward to get around in Soho. Oxford Street station is in the vicinity, as are Piccadilly Circus and Tottenham Court Road. Thanks to their central location, it's easy to reach clients across the city.
Average rent
Soho is fairly reasonably priced, considering its outstanding location. At present, the average rental rate per sq ft (per annum) is £106. Although this isn't the cheapest option in the area, it's considerably less than other locations, such as Mayfair (£143) or Knightsbridge (£124).
Of course, with Soho, you're not only paying for a convenient location, but also for the prestige. Situated close to London's premier shopping zone, with phenomenal daily footfall, this could be a major advantage for some businesses.
Types of commercial space
There's a lot of variety on offer in Soho, with something to suit most types of company. At one end of the market, you'll find sprawling studio space, often set in historic buildings, with features like exposed brickwork and wooden flooring. These premises are excellent for those who need to make a good impression on their clients.
If you prefer modern buildings, there are also some purpose-built contemporary office blocks in the area, with many offering light, airy workspace for growing businesses. There are also plenty of retail premises to let in the area, though as you might expect, competition is fierce.
A formidable reputation
When it comes to setting and establishing trends, Soho really is ahead of the game. It's a sought-after spot for customer-facing businesses, as its streets are among the busiest in the capital – which is saying something.
People flock from across the world to visit this part of London, and as such, forward-thinking eateries, bars and restaurants do well here, as do exciting independent retailers. Soho is also the spiritual home of Pride in London, and this fiercely liberal atmosphere pervades the area.
If you're looking for an exciting location that's right in the heart of the city, and which offers excellent business opportunities, this may well be the perfect place for you.
References