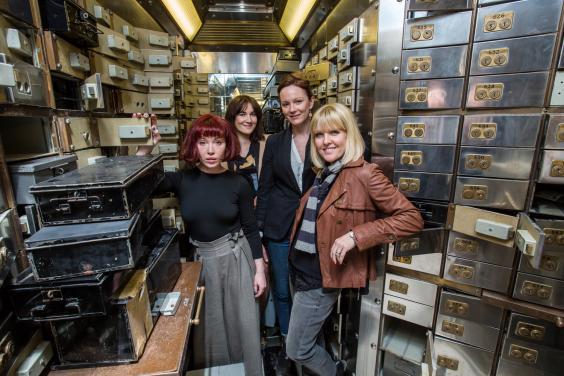 60 Years of National Youth Theatre of GB: David Pearl Hosts a Diamond Play Reading
On a quiet Tuesday afternoon in April, five illustrious alumni and one brand new graduate of National Youth Theatre of GB sat in a dusty basement in Hatton Garden to read Rebecca Lenkiewicz's Blue Moon Over Poplar to a tiny audience, invited press and a camera crew.

Ashley Jensen (Extras), Daisy Lewis (Downton Abbey), Sarah Solemani (Him and Her), two-time Olivier nominee Rachael Stirling, Sam Frenchum (Grantchester) and newbie Shalisha James Davis took part in an unrehearsed reading of the play to celebrate the launch of National Youth Theatre's 60th season of work with young people in the capital and beyond. As well as launching the season, this event was aimed at raising awareness, through the press, that NYT need continued funding for their work in order to preserve the entry into the arts industry by those who are less privileged.
This is a cause David Pearl is all too happy to get behind through his charitable foundation and hence he played willing host to this event. He said of the event: "It is my pleasure to host this wonderful youth arts charity in one of my buildings. I look forward to seeing their work this year especially as today has shown that the talent they produce is second to none."

A short clip of the film is available via The Evening Standard.


Find out more about the excellent work of National Youth Theatre of GB by following this link: