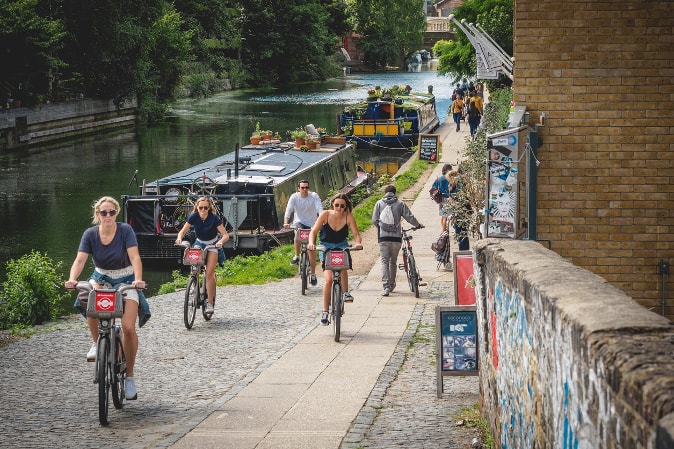 Hackney Wick: What is the creative enterprise zone?
The Creative Enterprise Zone, introduced by the Mayor in 2017, is a bid to support creative and artistic endeavours throughout Hackney. The scheme consists of ten grants of £50,000 each, which have now been awarded via a shortlisting system to ten specific areas of the city. These grants were designed to support research, create action plans, foster creative talent in the area and encourage local creative businesses. 
If successful, the London Borough in question can then apply for a revenue grant (from £200,000 to £450,000) to support the establishment of an official zone in the area.
Hackney Wick – Successfully Shortlisted
In March 2018, the Mayor of London announced the shortlist for the Creative Enterprise Zone scheme. Hackney Wick made it into the final ten and was awarded one of the initial research grants.
It's unsurprising that the area was selected, given its recent efforts to promote creativity within the community. Once regarded as a predominantly industrial zone, Hackney Wick is now home to over 250 artist's studios, not to mention 100 creative companies. It's fast becoming a hub for creative enterprises of all types, and the initial grant fund will help the local council to develop this further.
What Happens Next?
Hackney and Tower Hamlets councils now have until July 2018 to carry out their research studies and formulate comprehensive action plans. They'll then need to submit their findings to City Hall, which will be reviewed over the summer.
In the Autumn, City Hall will announce the funding allocation for the Creative Enterprise Zone scheme, and Hackney Wick will find out if it will be awarded the revenue grant or not.
Impact on the Local Area?
It's an achievement to even get this far, given that 25 London Boroughs applied for the grant. However, it's undeniable that the further cash injection from a revenue grant would make a huge difference to creative enterprises in Hackney Wick.
The financial boost could be used to create permanent, affordable workspace for local businesses, and to fund valuable support and advisory services. It could also be used to shape future policies, improving infrastructure and technology in the area. Above all else, it's likely to act as a catalyst, inspiring more businesses to move into Hackney Wicks, and elevating the local economy.
A "Thriving Creative Community"
It's exciting times for Hackney Wick, which is already regarded as one of the capital's most promising upcoming creative communities.
Philip Glanville, the Mayor of Hackney, emphasised that the council was working hard to foster this further, "from refurbishing council-owned buildings to provide affordable work spaces to strict planning rules that provide new affordable workspace and cap rent increases."
As a shortlisted candidate for the Creative Enterprise Zone scheme, Hackney Wick is one step closer to enjoying even better growth in this area; and Glanville is keen to highlight that this would happen "without excluding the very people who made it happen or losing job opportunities for local residents."
In the meantime, the council will be hard at work to ensure they receive the revenue funding in the Autumn.