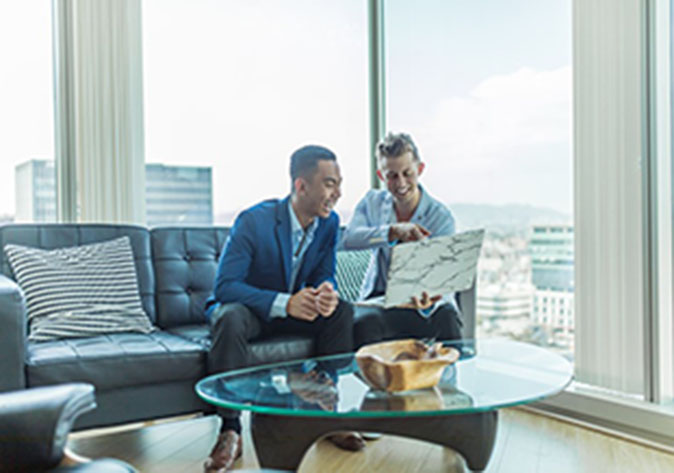 Questions To Ask Before You Rent a Property

Whether you are renting for the first time, moving on from an existing tenancy or looking for a property to let in a new location, choosing the right rental property can seem like a daunting task. You will want to ensure that your new home meets with your needs, requirements and while a property on face value may look perfect, there can be elements which aren't identified at a single viewing which may impact on how you enjoy your home.
Making a mistake when letting a property can be costly. Not only are you tied in for a certain time period (usually at least six months), if you need to move again costs such as deposits and removals can all add up. And let's face it – living in an unsuitable property can be a miserable experience.
However, by asking the right questions before you commit to a tenancy, you can ensure that your new home will be your perfect property.
Make a list
Before starting your property search it's important that you set some "rules". Think about elements of your new home that are non-negotiable and what you may be willing to compromise on. Make sure to involve all decision-makers when putting together your list, especially if not everyone can be involved in the viewing process. 
The obvious place to start is with your budget. Work out what you can afford, and remember to take into account differing bills – for example, council tax may well vary from one property to another, so think about how much you are happy to spend each month all in.
Location should also be at the top of your list. How far are you willing to commute. Do you want to be within the catchment of a local school? Are there certain areas you would rather steer clear of? Consider the amenities that are important to you - for example, if you don't drive do you want to be local shops or gyms. 
If you are relocating to a new area, it's wise to do some research first. Take a look at website such as Ofsted for schools, or check out police.uk to see local crime rates. 
Then turn to practical considerations, do you need a parking space? Do you have your own furniture or would you rather rent a furnished property? Are you happy to rent an apartment or would you prefer a house? Make sure that you know the difference between your "must-haves" and your "nice to haves". 
Before viewing
Viewing a lot of rental properties can be time-consuming, so make a shortlist of homes that suit your criteria and avoid viewing properties which won't be suitable. While of course a lot of information is included on property listings, there may be some elements which aren't clear, so it's a good idea to check first.
For example, if you have a pet, check with the agency or landlord that they will be allowed. If you need a parking space, be sure to ask questions, such as whether there is parking available, and if there are any additional costs for this.
You should also always confirm when the property will be available. Many properties to let are listed well before they become available to move in to, so if you're in a hurry, there's not a lot of point in looking at one which is not going to be ready in time for your moving date.
Asking the right questions before committing to viewing properties can save not only time but also potential heartache. 
About the Property
Viewing a property is, of course, the main way in which you will decide if it's right for you. However, there may still be things which aren't completely clear, particularly if a landlord or previous tenant is still living in the property.
Always check what furniture or white goods such as fridges or washing machines will be staying – it's very likely that not everything you see in an occupied house or flat will remain when you move in – conversely if you have your own furniture, ask if there are items which the landlord intends to leave within the property. 
Don't make assumptions about storage spaces, such as lofts, garages or basements. Just because you see a loft hatch doesn't always mean that you will have access to the space. In some cases, areas can be locked off throughout the duration of the tenancy, particularly in the case of private landlords who may wish to store their own goods or furniture at the property.
Also, if you're looking at a flat with a garden, ask about access arrangements etc. While some apartments come with a private garden, in many cases this may a communal space, or you may be allocated just a section so make sure to double check the details. 
If you have a car, make sure to ask questions about parking arrangements. While generally if you have an obvious off street parking space things should be straightforward, where this is not the case things can be more complex. For example, some new build developments restrict residents from even applying for a local authority permit - this can be particularly prevalent when renting in London. Also, even if there is a car park on-site your landlord may charge you separately for renting a car parking space. So be sure to get all of the details. 
Don't take anything for granted, and make sure to ask relevant questions when viewing a property to save potential disappointment later.


Documents and bills
If you've found a property which you think is going to make a perfect home, this is the time to check exactly what your outgoings are likely to be. 
Find out what the property council tax band is, and then check the annual cost on the local authority site for the council area. 
Many estate agent sites can give you an estimated cost for utility bills, and you should be able to see an energy performance certificate (EPC) too, the most efficient homes - which should have the lowest fuel bills - are in band A. The Certificate also tells you, on a scale of A-G, about the impact the home has on the environment. 
At this stage, you should also ask your landlord or letting agency what documents and information are required from you to move forward with the tenancy. Most will undertake referencing checks and will also need to check your right to let in the UK, so make sure to have items like your passport ready. 


About the tenancy
So you've found what looks like your perfect rental property and want to start the process of signing up and perhaps pay your holding deposit.  At this stage,you should make sure to check the details of the tenancy agreement (usually an assured shorthold tenancy). 
Firstly, if you are looking to stay in a property for the long term, it can be worth speaking with your landlord or letting agent about the length of your tenancy. Would you like to fix a longer-term tenancy? Are work commitments likely to take you away in the future, necessitating a break clause in the contract? 
It's also a good idea to think about the terms within the tenancy. For example, if you have an eye on updating that yellow painted bedroom, do check that you are able to redecorate as part of your contract.
Often, particularly on new build developments, the landlord may be subject to conditions within their leasehold that you will need to abide by – these can include things such as not parking branded vans, keeping curtain backings to specific colours and not hanging out washing on balconies. Make sure to read your contract carefully.
About the landlord
This can be a little tricky, however, finding the right landlord can be just as important as finding the right property. You want to ensure that your landlord will be fair, responsive and meet with their legal obligations.
If you are meeting with a letting agent – it's worth asking who manages the property (e.g the agent or the landlord), and also if you can ask some questions about the landlord. For example, if this is their only rental property, and whether it's been let before.
Pearl & Coutts are not a letting agency – we own all of the properties which we let – and have been in the business for over 50 years. From a tenants perspective, this means that we are completely invested in ensuring that you are happy throughout your tenancy, and have the experience and professional connections to ensure that your property is properly managed throughout your tenancy.
If you're looking to rent a property in London or elsewhere, why not browse our available properties to let, or contact us to find out more.