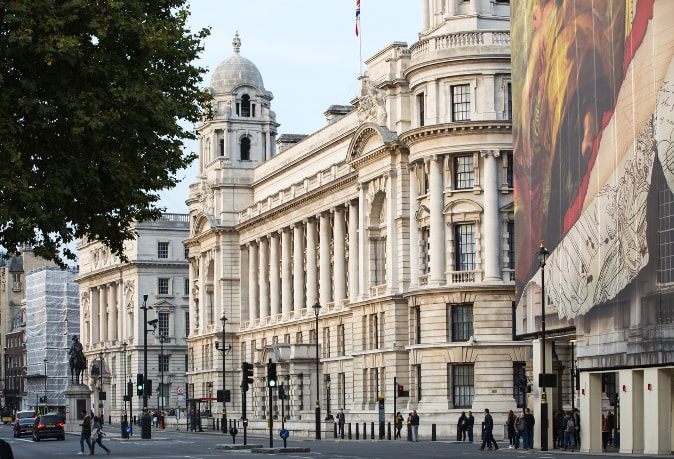 The Best Architecture Events Around London
As the UK's architectural hub, it's unsurprising that there are numerous architectural events and exhibitions in London throughout the year.
If you're in the capital and looking to brush up on your architectural knowledge, here's some of the best events happening over the next few months.
The Best Architectural Events on in London
King's Cross Renaissance – 28th July, 10:00am-12:30pm, King's Cross Station (by the roof structure) - £25.50
The King's Cross redevelopment is among the most ambitious ever seen in the UK (and Europe). It features a mix of 30 modern and 20 historic buildings set around parks and squares, resulting in an exciting, vibrant new area for residents and workers to enjoy. Find out more about it in this revealing tour. Other dates are also available.
Family Fun Day: What's Your Perspective? – 28th July, 11:00am-4:00pm RIBA, 66 Portland Place, Free (Registration required)
Want to get the kids into architecture? RIBA's Family fun Day is the perfect place to get them started. There are plenty of interactive drop-in sessions on during the day, such as creating 3D scenes in a box, making digital designs and designing their own 3D collage building. There are also several other children's sessions running throughout the school holidays.
Photography Tour – From Wren to Rogers, 11th August, 10:00am-12:30pm, City of London Information Centre, St Paul's Churchyard, £35.50
This tour is a great way to get to grips with the architecture of the City of London, taking in buildings designed by great names such as Wren and Rogers. Led by a celebrated architectural photographer, you'll learn how to capture some of the area's most iconic buildings in an entirely different way.
Architectural Walking Tour of the West End – 29th August, 10:00-12:30pm, New London Architecture, 26 Store Street - £14-£18.00
The West End is one of London's most iconic areas, and is an ever-evolving location, continuously adapting with the changing times. Much of it has been innovatively redeveloped in recent years, with other masterplans in the pipe-works. This fascinating tour guides you through all the key architectural areas.
London Design Biennale, 4th – 23rd September, Somerset House
This year's Design Biennale showcases a variety of designer's work, responding to the theme 'Emotional States'. It features designs from both upcoming and established architects, designers and more. Find out more here.
Disappear Here, running until 2nd October, RIBA, 66 Portland Place, Free
Perspective is a key aspect of any architectural design and influences even the simplest concepts. Disappear Here, in the Sam Jacob Studio, guides the viewer through a series of deliberately misleading murals and structures to emphasise just how much perspective can affect our interpretation of the world around us. Here's more information.
Dry Stone Walling Workshop, 6th October, Mudshute Park and Farm, 10:00am-4:00pm, £85
Architecture often focuses on the future, but it's amazing what understanding can be gained by looking to the past. This hands-on workshop introduces you to the craft of dry stone walling, and by the end of the day-long session, you'll be able to confidently lay down a dry stone wall of your own.