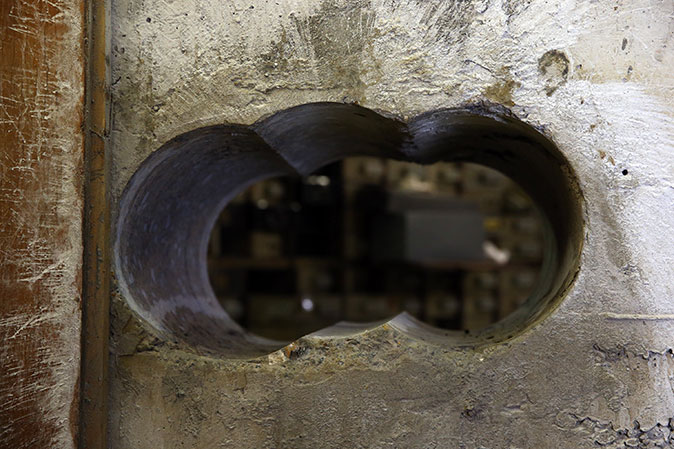 The Hatton Garden vault: where are we now?
Even if you don't keep up with the news, you'll have found it hard to miss the story that rocked London in the summer of 2015. It was called the single largest heist in English legal history and everyone was buzzing about it on the Tube. Mostly because the majority of the criminals behind it were well above pension age.
In April that year, a crack team of elderly master thieves known as Mr Ginger, Mr Strong, Mr Montana, The Gent, The Tall Man and The Old Man, broke into an underground safety deposit box in Hatton Garden and made off with up to £200 million in cash and jewels. They waited until the facility was deserted during a bank holiday, entered the premises through a lift shaft and then drilled a hole through the 50cm-thick vault walls, passing the loot through to their partners on the other side.
Later that year, our very own David Pearl announced the purchase of the vault after the previous leaseholder was forced to shut down in the wake of the heist. You might know David for his property empire, as the Vice President of Tottenham Hotspur or for his appearance on Channel 4's The Secret Millionaire. What you may not know is that David has yet to reveal exactly what he's planning for the vault.
This has left a lot of people wondering what the future holds for it.
Hang on. Who's David Pearl again?
Property? Football? TV? Still not sure? Well, you're probably not alone. David Pearl is one of the UK's most successful property moguls but he avoids the public eye by and large. He became more familiar to people after he appeared on The Secret Millionaire in 2007 (where he gave away £50,000) and through his Vice Presidency at Tottenham Hotspur F.C.
A North Londoner through-and-through, David left school at 15 with no qualifications and set up his first company – Pearl & Coutts – at the tender age of 19. He established Structadene when he was 33, a larger company which focused on acquisitions in the London area. Notable purchases included the Jesus Hospital Estate in Bethnal Green (350 properties) and various properties on Oxford Street, Great Portland Street and Great Titchfield Street.
Structadene has enjoyed considerable success throughout the years, featuring on The Sunday Times 'Profit Track' list (ranked 65 out of 100 companies).
Why is he interested in the Hatton Garden vault?
David's always looked for meaningful ways to pursue his three biggest passions: the potential of young people, history, and London (his first love). His work with charity has allowed him to give back to the community while staying centred around these three areas – charities he's funding include the National Youth Theatre, the Duke of Edinburgh's Award, the New Entrepreneurs Foundation, the Museum of London and St Paul's.
The vault, then, gives him a new way to pursue his avid interest in history. Even before this venture came along he's been helping to save English Heritage's popular Blue Plaque scheme, which commemorates sites around London where famous people lived after government funding was cut. He pledged £80,000 to help save the scheme, not to mention travelled around the capital drumming up support and funding.
The property developer sees owning the vault as a way of being part of history. Structadene's Group Solicitor Geoffrey Karikari, who accompanied David on the purchase, said: "A piece of my conveyancing history intertwined with the biggest burglary in British history isn't a bad story to tell the grandchildren!"
But he wouldn't be entrepreneur if he hadn't also seen a business opportunity in the vault. He has told the Evening Standard that: "There could be a museum around the incident, it could be revamped to have high-security and new deposit boxes, or let to a jewellery shop."
David is renowned for taking personal interest in the properties he invests in, and when younger, regularly attended property auctions himself rather than sending representatives in his place. Property auctioneer Duncan Moir claimed that Pearl behaved at auction "as though he were a collector, rather than an investor."
It's not surprising then that he should be interested in a potentially lucrative property with such fascinating history attached to it.
How did the purchase go down?
On the 1st September 2015, the Hatton Garden Safe Deposit Company were forced to go into liquidation. They claimed that their business had become insolvent as their trade had "dried up" in the wake of the robbery. In October 2015, the property was put up for sale with Hoffman and Partners as appointed agents. The property, which includes an office, showroom and vaults, was put on the market for offers in excess of £200,000.
Although Hatton Gardens Safe Deposit was now associated with a major crime activity, there was still considerable interest in the sale – possibly due to its attractive location in Midtown, which is where many media companies are based.
One November morning a number of staff at Structadene were invited into David's boardroom. It was decided that David would buy back the premises via a surrender of the lease, after which he would apply for planning permission to turn the office and vaults into a leisure establishment.
David bought back the premises for a premium – £200,000 – in exchange for Hatton Garden Safe Deposit Ltd returning the premises to him complete with the original, damaged safe deposit boxes. By 13th November 2015 it was confirmed that David had beaten out the competition to take ownership of the premises and, after legals had been sorted out, a completion date was arranged for 3rd December 2015.
What does the future hold for the vault?
It's been reported in many places now and it's true: David has yet to make his mind on what exactly to do with the vault. The famous hole through which the 'Bad Grandpas' gang crawled to access the loot was filled in by the previous owners, and David had it re-drilled in January 2016. Apart from the titbit that he wishes the hole to be visible, then, he's kept his plans for it a closely guarded secret.
There have been two main rumours – that it will become a museum on the one hand and a wine bar on the other, with drinks being passed through the hole. David has denied the second rumour on Twitter, claiming The Sun reported a rumour that was made up (although he said it was a nice idea). But the suggestion of turning the vault into a museum came from him, and he has neither confirmed nor denied that it will really happen.
Given that the events are now going to be made into a film, with film-makers reportedly seeking actor Tom Hardy to play the lead, creating a museum on site could be a lucrative business decision. According to The Express, even high-calibre actors such as Michael Caine have voiced considerable interest in the film, declaring they'd appear in it "in an instant." David himself has actively supported the film on Twitter.
Only time will tell whether the premises will be used to create a museum detailing one of the most notorious crimes of the 21st century, or whether David will use it for something else – albeit with his characteristic eccentric twist.
References:
https://en.wikipedia.org/wiki/David_Pearl_(businessman)
http://www.theguardian.com/uk-news/2015/sep/01/hatton-garden-safe-deposit-firm-hit-by-jewellery-heist-calls-in-liquidators
http://www.standard.co.uk/business/hatton-garden-heist-site-could-become-museum-new-owner-tottenhams-david-pearl-says-a3133276.html
http://www.express.co.uk/celebrity-news/637073/Michael-Caine-Hatton-Garden-robbery-film-Ray-Winstone
http://www.standard.co.uk/business/hatton-garden-heist-site-could-become-museum-new-owner-tottenhams-david-pearl-says-a3133276.html
http://www.cityam.com/230550/tottenham-hotspur-vice-president-david-pearl-is-thinking-about-opening-the-hatton-garden-heist-museum
https://en.wikipedia.org/wiki/Hatton_Garden_safe_deposit_burglary
http://www.theguardian.com/uk-news/2016/jan/23/one-last-job-inside-story-of-the-hatton-garden-heist
http://www.tvguide.co.uk/story/2/71594/hatton-garden-heist-to-become-film#.Vrxlw_mLSUk
http://www.thesun.co.uk/sol/homepage/news/6873622/Site-of-Hatton-Garden-heist-to-become-wine-bar-and-restaurant.html