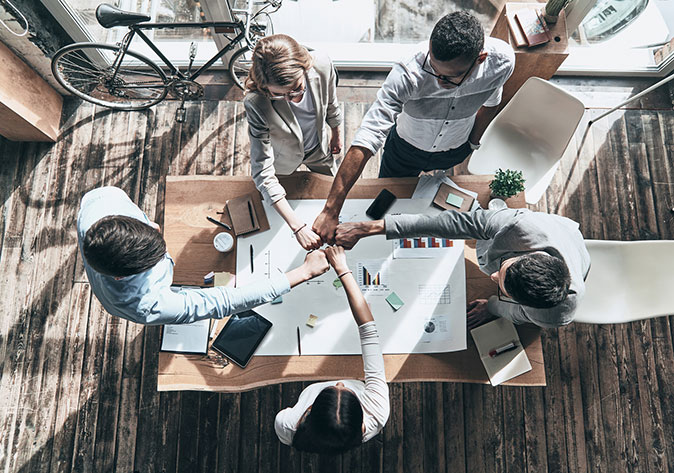 The Pearl & Coutts Guide to Office Essentials
There are a whole lot of gadgets for offices on the market. The big question is – which ones does your office need to meet your employee's expectations and to get up-to-date for 2019?
Here's a comprehensive guide to the key office technology must-haves to ensure your business stays as productive as possible.
The office tech must-haves
It goes without saying that your office must have computers, printers, and all the other basic technology required to run a business properly. But there are a few products that are all-too-often neglected by firms and, once incorporated, will become an integral part of your daily work-life.
Reliable phone and broadband lines. It's remarkable how many companies don't invest in reliable communication lines, even in 2019. It's not enough to just have internet. To be as productive and smooth-running as possible, it's vital to have fast broadband and a reliable phone line that won't cut out or crackle during calls.
Project management tools. If you haven't got a collaborative project management tool set-up yet, where have you been? Even the most traditional small business needs to keep its projects on track and companies of all sizes swear by project management platforms such as Asana, Wrike and Trello. They allow users to set up projects, invite members to access the project freely, then add notes, files and images when required. Deadlines can also be viewed clearly by all involved.
Ergonomic chairs. It's easy to overlook the importance of your seating, but cheap office chairs without the right level of ergonomic support can create a lot of problems. Employees end up with a range of issues, such as poor posture or an aching back. A supportive ergonomic chair reduces health problems, which in turn improves productivity and general wellbeing around the office.
Cloud-based storage. Backing up data is vital. Even the most secure businesses are at risk of hacking or malfunction, and if your data is wiped or lost, this can cause havoc. Cloud-based storage platforms such as Dropbox ensure that all previous files are safely stored in a remote location and can be easily accessed at work or at home. Resist the temptation to back everything up onto a physical hard-drive, unless you want to risk all your important files being lost because someone dropped it.
Ambient temperature measures. Empowering your employees to have some control over their environment can be incredibly powerful. Even a very simple step, such as installing fans for every desk, does the job. It sounds obvious but it's all-too-often overlooked.
Power banks. Most offices rely on phones, tablets and laptops, especially if you're a creative agency that works on mobile devices. Investing in power banks can ensure no device ever runs out of battery during an expo or meeting, even if someone forgot their charger (it happens more than you'd think!). If you want to get extra portable, you can invest in wireless chargers.
Standing hot-desks. Okay, so these aren't strictly speaking a necessity, but your team will certainly thank you for giving them the option. Standing desks encourage employees to spend less time sitting, which improves overall health, and many employees like to alternate between sitting and standing.