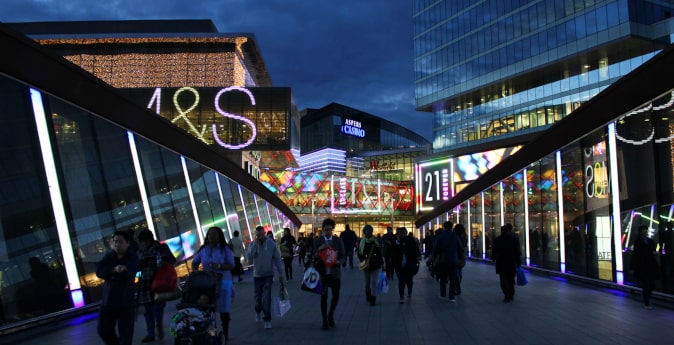 What will be the top retail trends of 2019?
2018 was a challenging year for retailers across the country. High street closures and Brexit uncertainties caused issues for some sectors; but it was also a time of evolution. Now, the country's retail experts are adapting to change with some dynamic, exciting new approaches.
Here's some ideas that you can implement in your own retail business.
Notable Retail Trends for 2019
'Experiential' shopping
Online retail continues to be a threat to the high street, so forward-thinking shops are starting to offer something an internet company can't – a unique buying experience. From personalised customer service to special events, savvy retailers are tailoring the shopping experience to meet the needs of their customers.
Think about: How you can incorporate this into your store. For example, if you sell food ingredients, you could host regular tasting sessions or cookery classes. If you're selling clothes, hold special 'catwalk' evenings or offer styling advice. Don't be afraid to ask your customers what they want, and then make sure you deliver it.
Creating 'culture'
Many stores are focusing on building a culture around their brand. For example, they may emphasise their sustainable, eco-friendly approach (which is bound to appeal to the modern buyer) or their on-trend, fashion-forward ethos. This makes customers feel part of a 'tribe' rather than an outsider simply making a purchase.
Think about: The core beliefs and values of your company, and who you're trying to appeal to. It needs to be authentic – customers know when a brand isn't being genuine.
Innovative technology
Shop owners are starting to use more technology in their retail offering. Apps incentivise customers to shop by providing information and highlighting special offers. Some fashion brands have even introduced styling tools (for example, Spec Savers' 'frame styler' that takes a scan of the user's face, then recommends the best glasses based on a facial assessment).
Think about: The ways in which you can use technology to elevate your business. Even updating your website can make the world of difference. Apps can be used as 'loyalty cards', to notify your customers of forthcoming sales and to offer exclusive discounts.
Social media
Social media is nothing new, but now, retailers are using it in increasingly inventive ways. Instagram is perfect for photographing products and taking lifestyle shots. You can also use it to share videos. Facebook connects you directly with your followers, giving you a valuable opportunity to interact with them and learn more about what they like. It's worthwhile using these free marketing tools to the max.
Think about: How you can use social media to develop and enhance your brand. For example, if you sell sports products, you could create a professional video, showing someone using your products while running or playing tennis. Every photo, video, animation or text post should be used not just to sell your products, but to sell the lifestyle too.
Subscription services
2018 witnessed an explosion in subscription-based retailers. From monthly beauty boxes to hand-curated fashion items, customers were happy to sign up to receive products through the post.
Think about: Introduce a similar concept in your store. You could create an exclusive 'monthly box' of goodies for shoppers to purchase when they're browsing in your shop, for example. Or you could offer regular customers the chance to sign up for a monthly package, with the promise that they'll receive items for less than they'd normally pay.