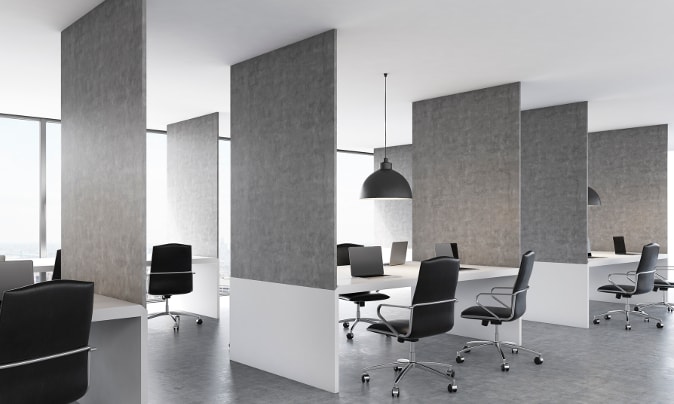 7 Creative Office Ideas
If you're a small business in the creative industries, you may not have considered how your working environment impacts on performance. We know that office design, from creating thinking zones to installing nap pods, can be used to foster innovation and spark creativity.
The design of your office is one of the top three factors affecting staff satisfaction. There have been many, many studies on this topic – including an important one from 2009 that showed nearly 90% of senior managers regarded office design as vital for boosting productivity in the workplace.
The question is – how can you transform your office to achieve these results? Here are some ideas to help you.
1. Create 'zones'
This is a transformation that's easy to incorporate into your existing office space. Create clearly defined zones for specific creative endeavours – whether that's a chilled-out social area complete with sofas and beanbags, or a quieter space for those wanting to get on with work. Incorporating 'thinking booths' into your design is a particularly creative way to create a more focused zone.
2. Think beyond the desk
Unless your staff regularly work alone, consider moving away from single desks, and instead invest in one super-sized table for several people to work at collaboratively. Even better, make the table a central feature and mark it with your brand.
3. Bring the outside in
Numerous studies reveal that exposure to nature can boost productivity in the workplace. A 2013 report showed that there was a distinct relationship between proximity to green space and higher levels of wellbeing – highlighting the importance of including some natural beauty into your office studio design. For a dose of nature in the office, create an 'indoor' garden area for employees to work in, complete with grass, deckchairs and plants!
4. Create a 'home from home'
Flexible working is becoming increasingly sought-after by employees. For the times when you need staff to be in the office, recreate the same pleasant environment they might enjoy at home. For example, decorate the desk area to remind workers of a café, complete with rugs on the floor, potted plants and a coffee machine.
5. That's entertainment
More and more companies are appreciating the value of fun at work, and realising that play can actually increase enthusiasm and creativity in the workplace. Companies like MindCandy have slides, foosball tables and walls that can be scribbled on. You don't have to go to quite the same lengths, but introducing even small elements of entertainment and fun can make a real difference.
6. Reflect your brand
Be creative in reflecting your company spirit in your office design. For example, if your brand is bold and vibrant, reflect this in your office space; with bright plastic furniture, high-gloss walls and smooth, curved edges. If you're more traditional, introduce plenty of leather, wood and other natural materials.
7. Encourage personalisation
Take small steps to encourage staff to personalise their areas. Photo frames, artwork and decorative items not only give them a feeling of ownership and belonging, but also add colour and interest to the office space.