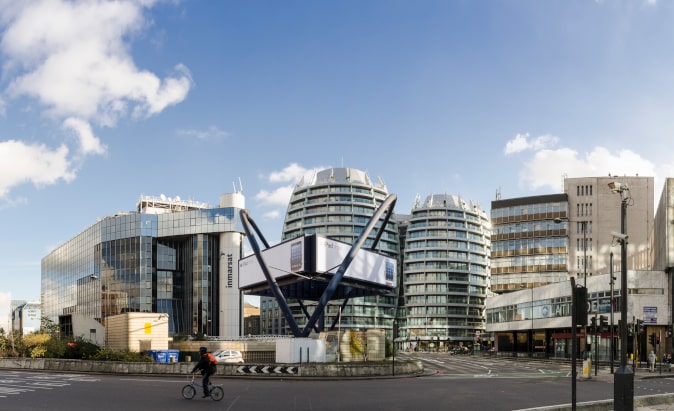 A small business guide to the Old Street Partnership
The Old Street Partnership first formed in 2016, with the sole focus of developing the area of Old Street and driving community development. It's a large group, comprising not only the London Borough of Islington and TfL, but also local businesses and landowners.
Already, the changes that they've pushed through are transforming Old Street and the surrounding area, with several dramatic regeneration projects now underway. Here's more information about the partnership and the transformation.
The Three Key Focuses
The Old Street Partnership identified three main areas of focus, which were:
Creating a better district. Improving all public areas and looking at longer term sustainability.
Creating a livelier district. Celebrating Old Street's rich heritage and history and raising the profile of the area.
Creating a safer district. Working in tandem with the Mayor's Office for Policing in Crime and the Metropolitan Police to ensure a safer area, 24 hours a day.
Business / Office Developments  
As part of the plans, several new developments have now been built in Old Street. White Collar Factory, which boasts 293,000 sq ft of office, retail and residential space, was designed by Derwent London. Likewise, The Stage on Great Eastern Street, developed by Cain Hoy, offers businesses 250,000 sq ft of new office premises, and The Bower on City Road, brings a further 320,000 sq ft of office space to Old Street.
Old Street Roundabout
Big plans are in place for Old Street roundabout. In a bid to encourage more eco-friendly commuting, new cycle lanes will be introduced throughout the junction, and there will also be improvements to pedestrian routes, with the addition of new pedestrian crossings.
Additionally, Old Street Partnership have suggested that the north-western arm of the roundabout should be closed permanently.
Bringing New Businesses to the Area
Another of the Partnership's key focuses is encouraging more businesses to set up shop in Old Street. They will be hosting several events over the forthcoming year, designed to showcase the area and highlight its commercial potential.
Benefits for businesses:
Open spaces. There are plenty of attractive open spaces in the Old Street area, including Hoxton Square, which is one of the capital's most historic garden squares (and a firm favourite with locals).
Privilege card scheme. The Old Street Partnership plan to introduce a privilege card scheme throughout the business community, entitling card holders to offers and discounts in the vicinity.
Greener business practices. As part of their commitment to sustainability, a range of projects will be running in the future to raise awareness about air quality, and to seek alternatives to deliveries being made in the area.
Should You Move Your Business to Old Street?
Old Street has gone through significant changes and is in the process of being completely transformed. As such, it's likely to bring new residents to the area, which presents an appealing opportunity for local businesses. If you're considering relocating to Old Street, it's recommended to act fast, before commercial property prices start to climb steeply in tandem with rising demand.