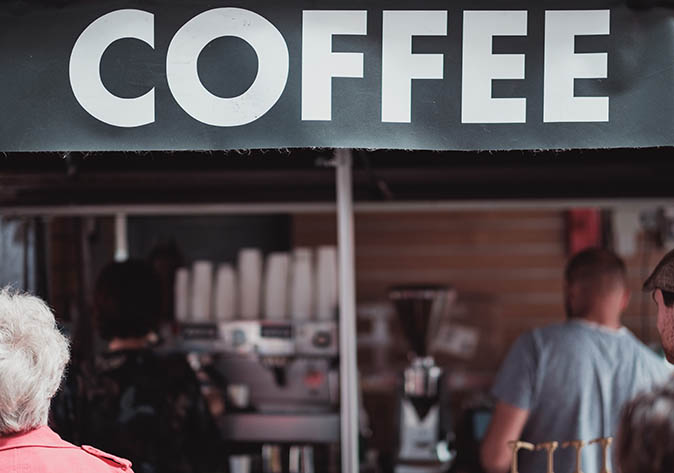 Opening a Coffee Shop in London – The Ultimate Guide
Coffee consumption in on the increase – in fact, the British Coffee Association revealed that the UK's coffee consumption has increased to 95 million cups a day – an increase of 70 million over the past ten years.
For anyone looking to open a coffee shop in London, the continued loyalty of those wanting to their caffeine fix is further good news, with 80% of those who visit coffee shops doing so at least once a week, and 16% doing so on a daily basis.
While some may trace the rise of café culture back to the 1990's, when "Friends" sipped their lattes in Central Perk – coffee has long been a favourite with Londoners, with the first coffee houses appearing in the city as early as the 17th century.
While today's coffee houses may look (and taste), very different from those early pioneers, the demand from those wishing to enjoy a great cup of coffee in the capital, and there are plenty of business owners looking to take advantage.
With this in mind, we bring your our ultimate guide to opening a coffee shop in London.
Consider your USPs and target market
The fact is, there are a lot of coffee shops vying for attention in London, so it's about more than just good coffee. Therefore before you even start to look at, business names etc, it is well worth sitting down and thinking about what you are going to bring to the (coffee) table.
If you have already spotted a coffee shop to let in a specific location, a lot of your targeting may be dictated by the location. It is wise to undertake research into what you can bring to the local market that is different from your competitors. Will you offer artisan roast coffee – or are you planning to differentiate on price?
Your starting point should be your ideal customer. Are you planning on relying on high takeaway sales with heavy footfall, or are you planning to be more of a coffee shop where people sit and socialise?
By putting your potential customer base at the forefront of your mind when planning, and undertaking local research, you are much better placed to open a coffee shop successfully.
Choosing a coffee shop location in London
The location you choose can make or break your coffee shop plans. So how should you go about finding your perfect coffee shop spot?
Passing traffic should be one of your major considerations, so think about foot traffic in the area that you choose. Is it well located for a nearby tube station? Are there plenty of offices in the area? What does the competition look like? What are the opportunities are in the area to market your coffee shop? Is it worth investing in a fancy espresso machine, or coffee machine? 
When undertaking research into your chosen location, it's also vital that you understand pricing of similar businesses in the area. While you may differentiate on price point, you need to be adding value, and ensuring that the right demographic lies within the area too.
Make sure to thoroughly understand who's in the location. For example, if you choose to rent a unit on an industrial estate – check what the in-house facilities are within the businesses there.
Deciding on coffee shop size
When making your plans to open a coffee shop, size can play a major factor. Are you planning on offering a takeaway only service, or do you plan to have seating for those wishing to sit and enjoy your coffee and a bite to eat?
Remember, the larger your establishment, generally speaking, the larger the overheads will be, as you will need more facilities, more staff and are likely to attract higher business rates too, so think carefully about the value you can add with a larger coffee house.
Again, your target market research should be referred back to here. Who are you looking to attract? The busy commuter who picks up their espresso each morning? The freelancer who will work from your establishment for most of the day? The mum's group who like to go for a coffee?
What business class use do I need for a coffee shop?
The answer is – it depends on your coffee shop. Generally speaking restaurants, snack bars and café's which sell food or drinks for consumption on site will fall into the A3 class. However, some coffee shops have opened under an A1 class – which is generally termed as shops and retail outlets. Big businesses such as Pret and Café Nero have come under this umbrella on the high streets.
Additionally, depending on your food services, there is a possibility that your business could fall under the bracket of hot food takeaway (A5).
So what determines which property use class your coffee shop will come under? Firstly, for an A1 unit, while a limited amount of seating can be in the shop, the primary use should be for takeaway sales of drinks and cold foods. While cooking cannot take place onsite, hot dishes can be prepared elsewhere and then reheated on-site.
If you are looking to offer more choice of food and seating for your customers to use your coffee shop as an eatery – generally class A3 will apply.
Check out our great guide to property use classes for more information.
What hygiene certificates do I need for a coffee shop?
UK food safety regulations state that anyone who is responsible for handling and selling food must ensure that the food they sell is safe to eat. As a starting point, A level 2 food hygiene certificate is required to satisfy a food handler's legal obligation for food safety training. However, if you are going to be responsible for other staff at your premises, you will need to ensure that you or any supervisors are trained to level 3.
The food hygiene rating system (FHRS) is the scheme under which your business will have food safety inspections undertaken, with a food safety officer giving you a rating between 1-5. They will assess how hygienically the food is handled and stored, the condition of your coffee shop premises, and how you manage and document your food safety procedures.
If you're thinking of starting a coffee shop in London, do take a look at our retail and restaurant units to let, or get in touch with us for more information.