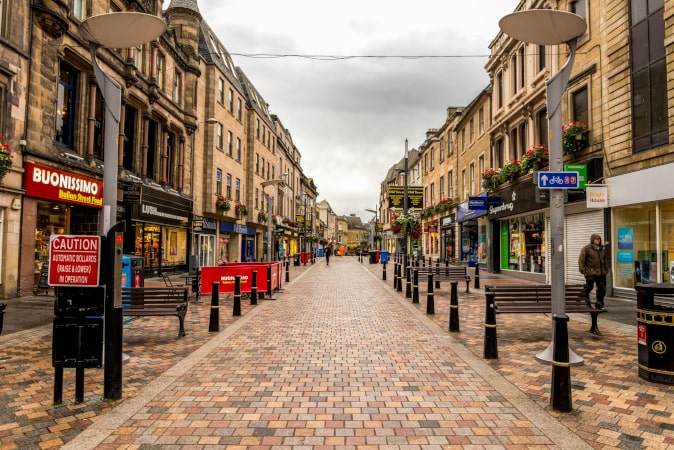 Keeping it in the community: how councils are investing in high street retail
The UK's flagging high streets have been the subject of much media attention in recent years. With fewer businesses taking up commercial retail property, some have predicted that this spells certain doom for our high streets, especially with the rise of online retailers.
However, as some councils are proving, this isn't the case at all. In fact, with a forward-thinking approach, many cities and towns are successfully regenerating their retail zones; increasing footfall, boosting the commercial property market and helping businesses to thrive.
Here's more information.
Case Study 1: Cheltenham
In a bid to attract more national brands to their high street, Cheltenham council invested funds into improving the high street's aesthetic appeal. They installed locally sourced natural stone paving, planters to add greenery to the area, plus more seating and bins. The planters are the first step of the 'Connecting and Creating Habitat' scheme, which is match-funded by the European Structural Investment Fund.
Councillor Andrew McKinlay commented: "Cheltenham continues to grow as a destination for shoppers which can be clearly seen with so many big-name brands opening here over the last few months… Almost a million pounds has been invested into this area and it's a pleasure to see our plans to revitalise the high street come to fruition."
Case Study 2: Telford
In 2015, Telford and Wrekin council launched the Pride in our High Streets programme, and pledged to invest over £1.5million into improving the area's retail zones and supporting the businesses operating there.
Councillor Lee Carter explained that the money would be used to redevelop empty properties, enhance shop facades, and to help parish and town councils to actively promote their high streets. There are also empty unit retail grants available, and the council are currently testing out a pilot scheme to add public WIFI to towns across the region.
Case Study 3: Barnsley
In 2017, plans were put forward to transform the town centres in the district of Barnsley; which included £5million worth of funding to enhance retail areas (alongside other improvements). Access to the funding will be on a competitive basis, and town / local centres can use the money to improve parking or transport, enhance shop frontage, or provide incentives for retailers.
Councillor Jenny Platts said: "We're committed to making sure this programme works directly with communities to deliver the best possible outcomes. The programme will encourage investment which will continue to reap the benefits for the people and businesses in district towns for years to come."
What Can Local Councils Do?
Our high streets are changing and it's important to accept this fact. To re-energise retail areas, councils could consider:
Diversifying businesses. Rather than solely focusing on retail, councils may benefit from viewing these areas as community hubs. As such, a greater diversity of businesses is needed; from gyms, cafés and restaurants, to training and activity centres.
By investing in properties in retail zones, the council retain control over their future. This means fewer empty premises and more opportunities to regenerate the buildings.
Residential / office. More residential properties and commercial premises (like offices) mean a higher footfall in the area, which in turn means more spending.