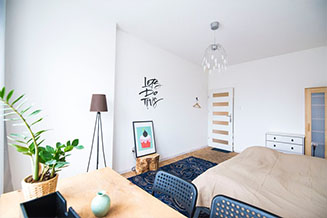 When Can Landlord Increase Rent?
If you have been renting for a while, or about to enter into a new tenancy agreement, a question which is likely to arise is how and when can a landlord increase the rent? We explain everything that you need to know about rent increases in residential property. 
What are the rules around rent increases? 
Generally speaking, your landlord will not be able to ask for increased rent during the fixed term of your tenancy – so, for example, if you have signed for an initial 12 month period, the rental price will be fixed during that term. 
With most Assured Shorthold Tenancies landlords can increase the rent after the initial fixed period ends. Increases during the fixed term may be possible providing it is stated in the tenancy agreement or if you agree to the increase. In some cases, an increase will be included within the tenancy agreement and this would have previously agreed prior to signing the tenancy agreement. 
Your landlord can increase the rent if they wish to after the initial fixed period, providing:
The tenancy agreement includes information about the procedure for a rent increase

The landlord gives the tenant the required notice of the intended rent increase

The landlord provides the tenant with written notice that a change will be made to the terms of the tenancy agreement
In most situations, your landlord will most likely agree on a rent increase with you at the point at which you renew the tenancy at the end of the fixed term in mutual agreement with you as the tenant. However, they can also serve a notice known as a Section 13 notice. 
If you enter into a periodic tenancy, whereby you enter a rolling weekly or monthly contract, and your landlord decides to increase the rent they may do so by giving you a months notice. 
How much can my landlord increase rent by? 
In some cases, a rent review clause may be included within your tenancy agreement and will state either a specified amount or percentage that your rent can increase by. However, generally speaking, there is no specific amount and your landlord is likely to look at how much other properties let for within your area. 
However, rent increases must be fair, and you are able to challenge any uplift to your rent should you deem it not be. 
Can you negotiate if your landlord chooses to increase your rent? 
Of course! It's not unusual to do so. If your landlord proposes a new rental figure when renewing an existing tenancy why not do some research? Take a look at the prices of similar properties to let in your area and check how yours compares. 
Generally speaking, if you are a good tenant, who pays their rent on time and looks after your property, your landlord is likely to want to keep you in the property wherever possible, so do try to negotiate a price that suits you both. 
If you fail to reach an agreement your landlord may serve a section 13 notice. 
What is a section 13 notice? 
Section 13 (2) of the Housing Act 1988 provides for a landlord to increase rent in an assured shorthold tenancy agreement by issuing a Section 13 Notice if the rent increase is not stated in the tenancy agreement and the tenant does not agree to the proposed rent increase. 
In order to serve a section 13 notice, the landlord is required to fill in a prescribed form (section 13 notice), and serve this on the tenant. The notice must be at least one month, and if the tenant does not respond or does nothing than the rent increase will take effect. 
This means that should you receive a Section 13 notice and you are not happy with the rent increase – don't ignore it! 
How can you dispute a Section 13 rent increase? 
If your landlord serves you a Section 13 notice to increase your rent, and you feel that the amount proposed is excessive you are able to apply to the First-Tier Tribunal (Property Chamber – Residential Property to challenge the increase. 
You will need to apply to the tribunal (which is free to apply), prior to the date on which your rent increase is due to start. 
Remember, the tribunal will look at things like the cost of renting other properties in your area, and what the landlord could expect to charge if a new tenant were to let the property – not your personal circumstances.  
How does appealing to the First-Tier Tribunal Work? 
Firstly remember you will need to apply before the date on which the rent increase is due to take effect – your landlord should serve the initial Section 13 notice at least one month before the proposed rental increase. 
The form to do so will be included in your notice, or take a look at YouGov
The tribunal is made up of professionals such as surveyors, solicitors and other experts who will review your challenge by looking at the market rent for other properties in the area, the condition of your existing property and take a view on what your landlord might expect to receive in rent were they to relet the property to another tenant. 
Usually, you would ask for a "paper" decision – this means that there is no need for you to attend the hearing, however, you can request an oral hearing where both landlord and tenants may present their case. 
In some cases, the tribunal may inspect the property if considered necessary – and this is usually the case.  
What are your other options if you cannot afford a rent increase?
If you have not been able to negotiate your rent there are of course other options. 
Seek financial help
If you are on a low income and will struggle to pay your new rent, you may qualify for some financial assistance. Speak to your local Citizens Advice Bureau to discuss your options. Shelter are also on hand to offer housing advice. 
Consider sharing
If you have the space, and your landlord will agree, you could consider sharing your property and therefore splitting rent and bills with another tenant. Make sure your landlord is happy to amend your contract first. 
Move out
If all else fails, it may be time to look for another property to let. If rent has risen steeply in the area in which you are in you may need to consider options slightly further afield, or a smaller property. Take a look at our guide to finding the right rental property (questions to ask).