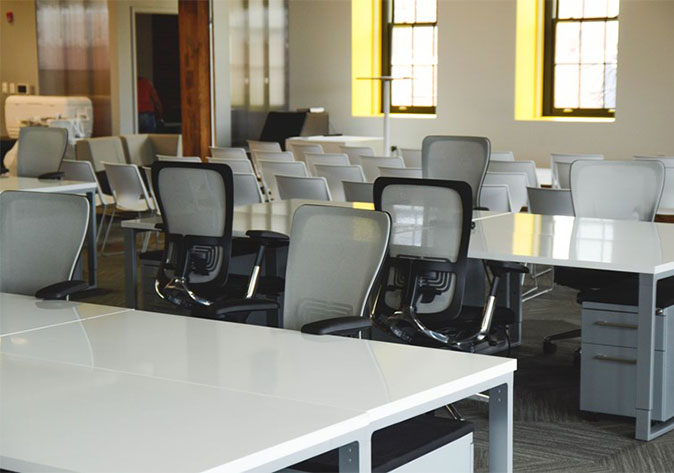 Have You Outgrown Your Existing Office?
It's a milestone that gives business owners both cause for celebration but also cause for anxiety – the time when it becomes obvious that you have outgrown your existing office.
However, the truth is that for many owners who are working hard on building up their business it can be the case that, being able to clearly see when it's time to consider new premises isn't so obvious. You have become used to squeezing past desks, or queuing for the printer, and cannot objectively see that your office space is no longer fit for your purposes.
The right office environment allows your employees to thrive, gives your reputation a boost, and overarchingly can contribute to the success of your organisation.
If any of the below signs apply to your business – it may be time to start the search for your next office.
Your headcount has grown
Many small businesses start out with a lean model when it comes to staffing, however as your business grows, so too will the number of people you employ. As you start to expand, the need for specialists such as HR personnel, accounts teams, or IT support may become necessary, alongside your core roles.
As your headcount grows, the available space in your office decreases, and it may well be that you no longer have enough office space to accommodate your staff properly, squeezing employees into ever smaller and less comfortable spaces, or taking away existing facilities to allow for more desks.
And it's not just about desk space; increased staffing numbers also means that you need the infrastructure in place to support them, including telecoms, W.Cs, and spaces to eat and prepare food.
Your office location is no longer suitable
There are many reasons why your office location may become unsuitable, both due to internal change or external influencing factors. If you started out as a very small business, it may be that you chose a location that was convenient for you, but it's now not so convenient for your staff or customers.  For example, it's not well served by public transport or does not have adequate parking facilities if required.
In some cases, your client base may have changed, and you now need to be able to service your customers from a more convenient or central location. A typical example of which is when business owners set up in suburbs as it's convenient and affordable, but as the business grows to require an office in Central London.
Depending on your industry, it may also be that you are missing out as you are not "where the action is". For example, Soho is known as a media hotspot, while Old Street is very much a tech hub. For businesses in certain niches, being in the right place can cement reputation.
Private space is at a premium
A lack of space for private meetings, be they staff appraisals, client pitches or just a simple catch up that requires discretion can have a seriously negative impact across your company.
Not being able to hold client meetings at a time and date that suits them may either make you look unprofessional or alternatively can cost you money in terms of sourcing and paying for meetings at external locations – those expensive lunches can certainly stack up!
For those who manage teams, a private place to have difficult or sensitive conversations at an appropriate time is vital. Without being able to withdraw to a private space, they are put in the position of potentially not being able to give time-critical feedback, or having to have difficult conversations in an inappropriate space.
You don't have the facilities you need
A lack of the right facilities can have a huge impact on staff morale and productivity. Whether it's a case of having to queue to use the loo, a fight for the last parking space, or a race to get the printer first, time spent waiting for facilities to be available is time that is not achieving the goals of your organisation.
And indeed for individuals, a lack of access to required facilities can lead to frustration, and them ultimately looking elsewhere. Take a look at any job spec, and you will note that great on-site facilities are often mentioned as an incentive to tempt top talent into organisations. While of course not every office requires a ping-pong table and a subsidised cafeteria, it's worth thinking about the facilities that are vital for your business, and whether they are currently adequate.
Your employees are unhappy
An international survey of over 10,000 workers carried out by IPSOS found that 85% of employees are unhappy with their office environment.
Being squeezed into an office that you, as a company have outgrown is highly likely to have a detrimental effect on your workforce. From having no place to take time out, to being more distracted by colleagues packed into an unsuitable space, a cramped or overpopulated building is likely to lead to employee dissatisfaction, decreasing productivity and increasing staff turnover.
With websites such as Glassdoor, where staff can review their experience of working or even just being interviewed at a company, really taking off in the UK, unhappy employees (and former employees), can seriously damage your reputation.
Making the Move
If you have come to the conclusion that your existing workplace is no longer the most viable option for your business, it's wise to ensure that your next choice of office will be sustainable for your business for a long time to come.
Make sure to consider everything that has driven you to move in the first place, and ensure that these issues will not be repeated in the future.
Take a look at our guide to expanding to bigger offices for some great tips in ensuring that any expansion into a larger office is successful, or learn more about what to look out for when viewing office premises.