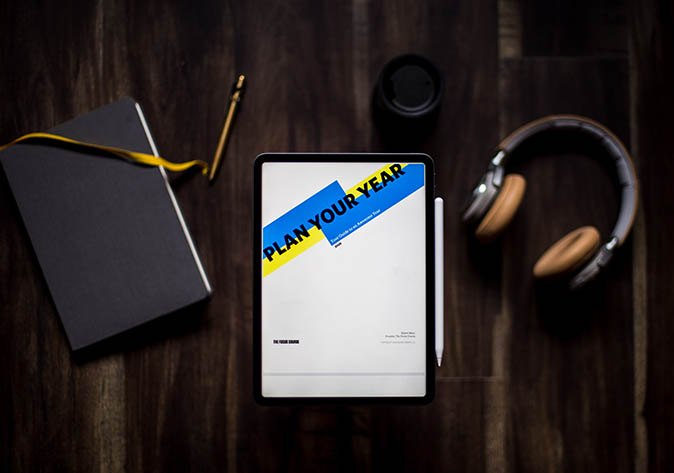 It's about that time when, as individuals, we turn our thoughts to resolutions for the forthcoming year and beyond. On a personal level, these aims and objectives often centre around health and wellbeing – we promise to eat better, exercise more, and give up bad habits.
However, for business owners, January can be a perfect time to focus on creating changes and exploring how you can help to build a better future for your business. By applying the same principles as you would to personal resolutions, you can help shape up your organisation and set goals for success
With that in mind, we explore the best New Year's resolutions for your business to make 2020 your best year yet.
Review your business plan
A new calendar year gives you the perfect opportunity to re-evaluate your business plan, taking into account changes that have taken place in your company and your industry throughout the previous 12 months.
The truth is, many business owners create a business plan when starting out, in many cases to gain funding for their business, but never come back to update.
The reality is that we are in a rapidly evolving world, and the landscape in which you operate may have changed a lot since you last looked at your business plan; new competitors enter the market, customer expectations change, and you may have new opportunities or threats to your business model.
Taking time to review your business plan will help to give you focus on the upcoming year, and put in place a strategy that will help you to achieve your goals in 2020.
Make your office space work for you
Thanks to the likes of Marie Kondo, New Year's resolutions around making our homes less cluttered and more "zen" abound this year – but what if you apply the same principles to your office space?
It's easy to get into a bit of rut when thinking about how your office is organised. The photocopier is positioned in a certain space just because "it's always been there", or you overlook the fact that your shelves are heaving with old paperwork that no one quite knows what to do with.
Take some time to think about what you, and your employees, really need from your office space. Are there enough areas for staff to take a break and relax? Do you need more desks for a growing number of staff? How does your office design contribute to your overall goals?
By thinking first about what you want from your office space, you can then take steps to improve it. In some cases, it may be the case that you've outgrown your existing office so take an honest look at how your premises may be affecting business growth.
Delegate more effectively
Delegation is something that many small business owners struggle with, and without effectively being able to allocate tasks, your business may struggle to thrive. After all, there are only so many hours in a day, and if you try to take on too much, you will struggle to fit it all in.
Being able to delegate well can take some practice, but doing so frees you up to spend more time focusing on business growth, and really get on with the tasks that you enjoy.
There are several ways in which you can take some of those tasks off of your plate, so first ask yourself the following questions.
What do I enjoy/not enjoy working on in my business?
What do I find overwhelming?
Is there a task that someone else could do more quickly/more effectively?
Then consider your options on who to delegate to. In many cases it's likely to be an internal employee, but also consider whether it's worth getting external help – for example, outsourcing things like accounts, payment chasing, marketing or even employing a virtual assistant.
Focus on engaging your employees
Make 2020 the year in which you get your staff fully on board with your company's goals and vision. Employee engagement is about far more than just knowing whether your team members like their jobs, it allows you to understand their motivations and how emotionally invested they are in your business and their day to day work.
In order to accurately understand how your employees feel about their work, it's wise to carry out some form of a survey to get an accurate benchmark of how your staff currently feel about the work they do, and the organisation as a whole.
Once you have identified areas that may need re-enforcement put in place a plan to help to engage your employees. Generally speaking, empowering them with information, easy access to management, career progression and the tools to do their job well are often at the heart of what employees need to feel engaged with the work they do.
Discover how the right office environment can help to increase employee engagement.  
Learn from your business mistakes
Mistakes and failures happen. A product that looked good in R&D fails to resonate with the public, a big client pulls out of a sale, or a new opening just doesn't work.
How you deal with business mistakes large or small, can shape how your company can grow and learn going forward.
Without attributing blame, when you have a failure within your business, forensically list the errors that resulted in the failure. Was enough research undertaken? Was the project over budget or not given enough budget? Did you launch at the wrong time?
By understanding the mistakes make, you can better specify the lessons that you or your organisation needs to learn.